Students, staff, faculty and alumni gathered in Kenan Hall on February 9 for the Senior African American Cultural Center's annual fashion show. Held annually as part of UNCW's Homecoming and Black History Month festivals, the production features live rappers, a local DJ and a rich collection of book-inspired student designs.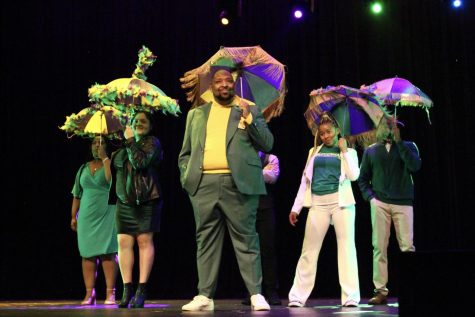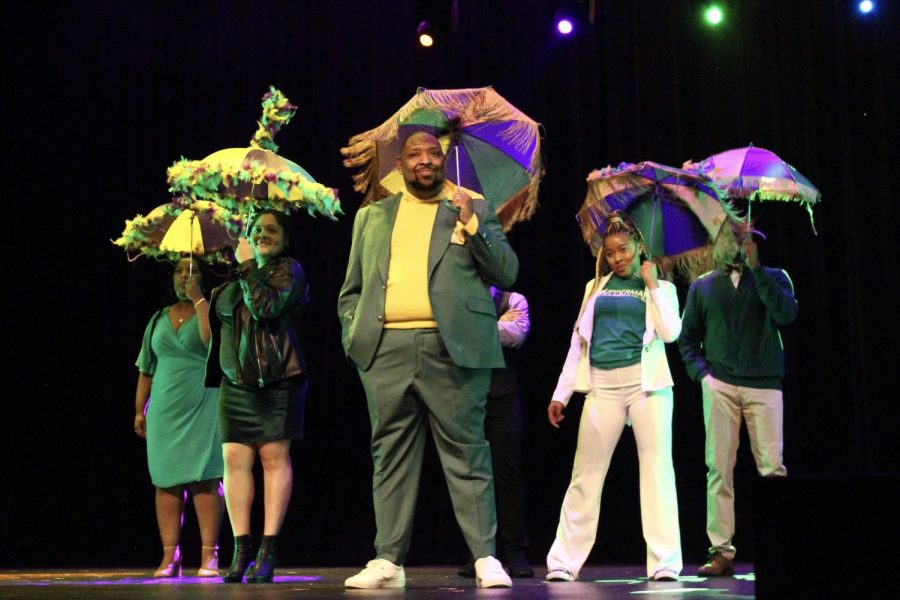 In the past few years, the Covid-19 pandemic has made it difficult for models to connect with each other and with the audience, as social distancing has required much less interaction at rehearsals and masking has prevented viewers from fully reading facial expressions. And the power of models on stage.
The theme of this year's show is "Welcome to the Library" Black Literary Excellence. Chosen to match Upperman's theme of 'A is for Activism' in reference to student leadership and education, the fashion is captured in each scene by a color writer's signature work.
Books on display were "If Ele Street Could Talk," "Africa Must Unite," "The Coldest Winter Ever," "The New Negro," "Their Eyes Were Watching God," and "Queen Sugar."
"Not only are we doing 'A is for Activism,' but it's the 60th anniversary of black student life here at UNCW, so we want to look at decades, not just one time," said program coordinator Ashley Fleming. For the upperman. That's what we've been doing all year, the same as the rest of our program.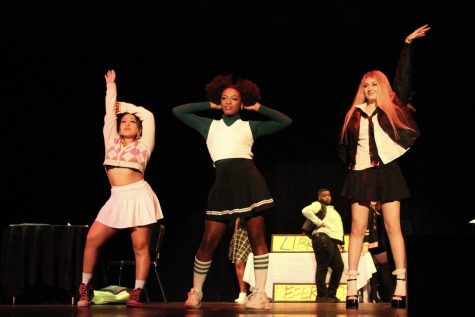 Shawn Palmer, director of the Upperman African American Cultural Center, selected the books featured in each show. Upperclassmen take over as creative directors for individual scenes, choreography, color schemes and other aspects of the show. The models were not only students themselves, but also faculty and staff.
"This year, like every year, it gives our students and staff an opportunity to express themselves in creative ways," Fleming said. "We do a lot of programs that are academic or professional—speakers, lectures, things like that. As you can see, Apperman can also run programs that revolve around culture, or in this case the relationship between culture and creativity, because we know that the two things are directly related to each other.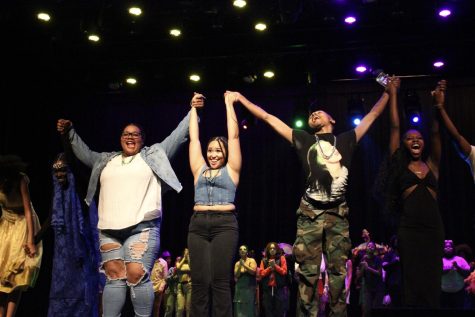 The DJ, Brandon "Big B" Hickman, is the program director of COAST 97.3, a local radio station and Wilmington native. He was an active member of the Upperman and UNCW community and kept the audience engaged during transitions between shows, playing a variety of songs by artists from Diana Ross to Tevin Campbell. One of the two featured rappers, Moe Holmes, or MoeSOS DC, is a UNCW alumni and former student leader. The opening scene, set in a library, introduced Moe as a librarian, showing the original work he had written specifically for the show.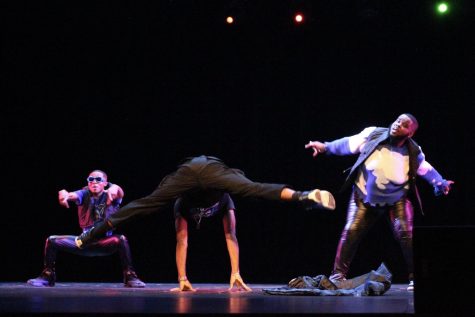 Each show had high energy and deep rhythm, allowing all models to express themselves in a unique and personal way. Some shows were sponsored by designers and small businesses, while others brought in their own models and fashions.
The second show, "If Elle Street Could Talk," had models walking down the runway in pairs in color-coordinated ensembles. Black and white, red and white, and honey. After a number of models dressed as waiters introduced themselves to the audience, they started walking around the stage tables with fake dishes. Gender-fluid fashion, queer love, power, sass and class are all proudly featured in the show, which is adapted from the famous novel by literary icon James Baldwin. Best of all, it was clear that the models themselves were having as much fun as the audience, just like in the following scenes.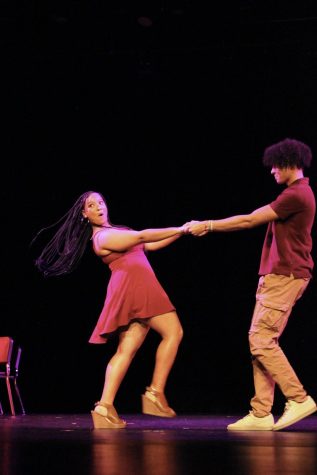 Scene three was based on "Africa Must" by Kwame Nkurumah. The models waved different flags and scarves from Africa as they donned traditional costumes and presented things important to their countries, such as The Gambia and Mali. They also danced to music from different cultures across the continent.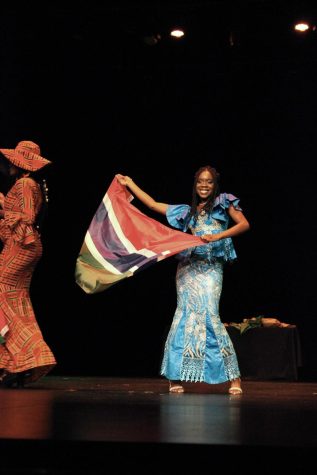 "One of the main things this year is understanding parts of Africa," said Taylor Holden, head of the executive board. "We [had] This one scene in our show, and we in it [had] Two different songs based on Africa. One is East African music and the other is West African music. Many people think that Africa is only West Africans, but East Africans and West Africans are very different and it shows in their music and dance styles.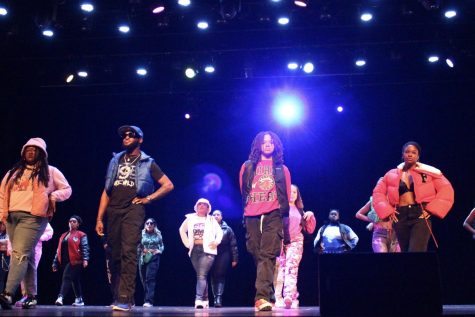 The fourth episode, "The Coldest Winter" brought the audience back to the United States, to Brooklyn, NY. With attitude and color coordination, models were running and dancing to hip-hop music, teasing both feminine and masculine power in their dress coordination and energy.
Episode Five, "The New Negro," is based on an anthology of essays and poems by Allyn Locke, a leading figure in the Harlem Renaissance. Models took a trip back in time to the Roaring 20's and wowed the audience in stunning, floor-length dresses, dresses and glitter as they danced in sneakers to everything from Jazz to Beyoncé to what Big B called the "Sneaker Ball."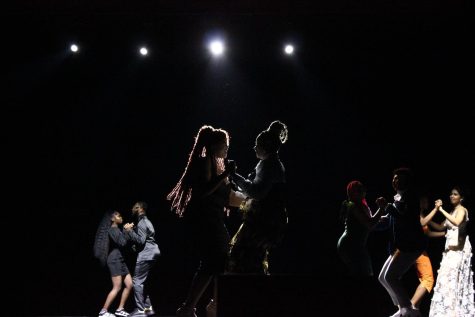 Set in central and southern Florida in the early 1900s, Zora Neale Hurston's novel "Their Eyes Were Watching God" features stylized patterns, floral, summer dresses with bright sunglasses and a variety of hairstyles. Mardi Gras music and big band jazz played from the speakers as they left the stage, transitioning the show into the final act, "Queen Sugar."
"Our last show is Mardi Gras because next year's theme is Mardi Gras," board member Deonna Stanley said. "over there [was] A transition from the library to this parade-like activity.
Unlike the other shows, the "Queen Sugar" models wore a lot of basics, so it focused more on accessories rather than full outfits. Each person on stage expresses themselves in a unique way, whether it's their accessorizing, songwriting or even the attitude with which they walk the stage. In masses of white, black, green and purple, the models strutted off the stage, swinging boas, large, colorful masks and unique Mardi Gras umbrellas, a thrilling finish to what was already an exciting scene.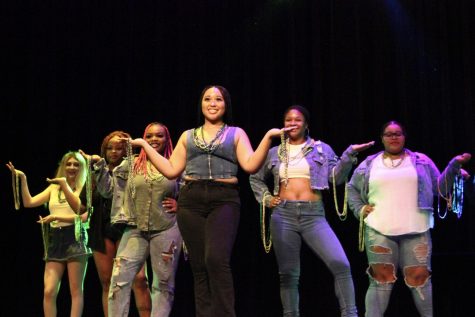 "I think what makes the fashion show stand out is that it's a complete experience," Stanley said. "In other places, when you go to fashion shows the main focus is the clothes, but at Upperman we show the music and the people involved. We want the individual model to feel like a superstar. The focus is on experience, and there is a story in every scene.