It's safe to say the world has been a little strange lately; Since the start of the COVID-19 pandemic, travel has not been the same. Although we are facilitating mask-free travel and consistent testing, there are still many things that have changed and continue to be a challenge for travelers at all airports, including Seattle-Tacoma International Airport (SEA).
Whether your trip is domestic or international, summer or winter vacation, air travel will continue to be difficult for the foreseeable future. Preparing for your long-awaited trip should include planning for the unplanned.
Planning and scheduling
Tip 1: Know the peak times at the airport and plan around it
Let's face it – it's almost always busy. But early mornings, midday and late evenings are the peak times for departing, connecting and arriving flights. This applies to various operational areas such as airport machine traffic, ticketing, passport control at the International Arrivals Authority (IAF) and waiting times for TSA checkpoints.
Tip 2: Give yourself the gift of time!
Plan for extra time in case of cancellations, delays, or other travel impacts, including booking flights, hotels, rental cars, or other modes of transportation. Allowing extra time between essential travel steps helps to ease stress and impact, so it's better to give yourself more time than less.
Arrive at the airport three hours in advance boarding time (45 – 60 minutes before scheduled departure time) — and that's not including the travel time to the airport! Arriving early gives you enough time to get where you're going and solves about 85% of the potential stressful events at the airport. Worst case scenario – you're a little early and have time for a pre-flight snack.
Tip 3: Download apps
Before you go to the airport, download the FlySEA app to check your waiting time, flight status and baggage information. Then download your airline's app to check your flight status, get updates and rebook any affected flights if things go wrong.
Trust is key, so know before you go! Look for your designated gates, restrooms, and shops on the interactive map to know where to go. Check the FlySEA website or keep the turn-by-turn map in the FlySEA app.
Tip 4: Discuss accessibility needs
If you are a traveler with a disability, call the Transportation Security Administration 72 hours before your flight to arrange assistance at security checkpoints at (855) 787-2227.
Tip 5: Hope for the best, prepare for the worst
Staffing levels are stretched across the globe and opening hours for services, retailers and restaurants can be inconsistent. Be patient and kind to the workers. They are all doing their best to help you and are not the cause of the problem. You, the airport staff and your fellow travelers will have a better day if you exercise a little patience.
Transportation
Tip 6: Know the traffic conditions before you go
As always, check the Washington State Department of Transportation a few hours before you leave for road conditions and traffic updates!
Tip 7: Plan for alternative transportation
The parking garage is constantly busy, so your trip will be smoother if you plan not to drive. Search in advance for other options like airports, shuttles, LINK Light Rail, app-based ride sharing, taxis and more.
Tip 8: Get off and get on one of Airport Drive
Busiest times in upper (Boot) disks are 5:00-7:00 and 9:00-23:00 for lower level car (Achievements).. To avoid long waits, choose the one that is less busy and use it instead!
In the morningsdrop off your passengers at Arrivals Drive (lower level)
In the eveningarrange to meet your people at the Launch Drive (upper level)
Security screening
Tip 9: Be prepared for the security check! This means when you're in line (or while you're packing):
Take out the appropriate identification form in a convenient place
Pack items like cell phones and laptops together to take them out
Wear clothes and shoes that can be easily removed for bins
Check with TSA in advance if you have a question or need special assistance.
Tip 10: Plan to wait at security checkpoints
This may mean arriving early and allowing plenty of time, then being pleasantly surprised if there isn't a wait. Lines can seem long, especially when people are lined up with luggage, but look for movement. Shorter lines that are not moving may actually have longer wait times. Follow the instructions of the checkpoint staff for the lines, as they always look for the shortest line for you.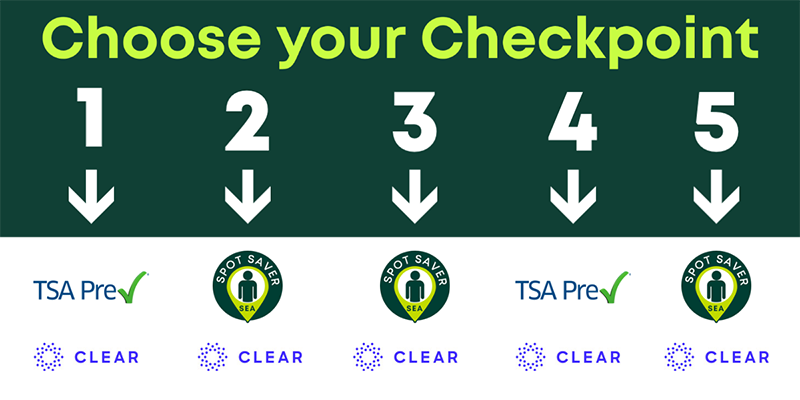 Tip 11: Know where to go for your trusted traveler program
Here's a cheat sheet:
TSA Pre-Check: Go directly to checkpoints 1 or 4; check the FlySEA app to see waiting times on both
SEA Spot Saver: Go to checkpoints 2, 3 or 5 between 5:00 a.m. and 1:00 p.m.
CLEARLY: Use every checkpoint
Airlines
Tip 12: Connect with your sanity
When booking your connecting flights, give yourself at least 90 minutes for domestic connections and two to three hours for international connections. Booking with the same airline for your connections also ensures smoother check-in, baggage drop-off and proximity between your two gates.
Tip 13: Get rid of the bags
Check your airline's baggage policies and if possible, travel with carry-on luggage to eliminate extra waits.
Tip 14: Stay in touch
Check your flight status well in advance and keep checking during your trip; enable push notifications to get updates on the go.
International travel
Tip 15: Speed ​​up immigration
The new International Arrivals Facility (IAF) at SEA Airport is a bag-first facility which means you will collect your luggage before entering passport control.
Bonus: if you don't have checked baggage, go straight to customs and go faster! Keep in mind that passport control lines can seem longer because people have bags with them. Pay attention to the interactive signs and go to the right line for your login status. When in doubt, ask the Pathfinders or the bright green staff.
Tip 16: Consider your connection
When booking connecting international flights, allow at least two to three hours for international connections, as you'll need to claim baggage, go through passport control, recheck any baggage on your next flight, and go through TSA screening .
When things get stressful
Use your traveler benefits, whether it's lounge access, trusted traveler programs, or airline benefits like early check-in and boarding
If there is a delay, keep some perspective – chances are everything will work out and be fine! The main goal for airlines and the airport is to get you where you are going safely
Airlines are responsible for flight schedules, so contact your airline if your flight is delayed
Have a question? The SEA Customer Care Team is here to help on social media.