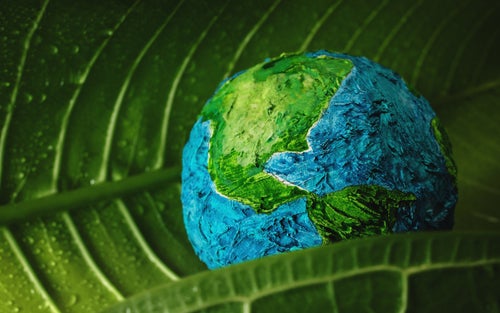 Addressing the fundamentals of sustainable fashion development now is critical. This means fully embracing circularity, investing in innovation and balancing proven innovative solutions.
COP27 has once again highlighted the huge amount of activity taking place in the fashion sector to tackle climate impacts – but are we sure they will all go the 1.5 degree route?
It was very encouraging to see the interaction of countries, NGOs, corporate organizations and the investment community and foundations at COP27. This year at COP27, supply chain transparency was a theme across all industries. What is needed is concerted action, significant investment, acceleration of known solutions that work, and innovation that meets the requirements of achieving the 1.5 degree pathway.
Textile recycling was finally on the agenda.
Finally, two big issues entered the COP discussion this year – fashionable 'greenwashing' campaigns and the use of unsustainable textiles. Both of these are preventing fashion from moving on the sustainability journey. Both of these will be resolved as brands apply for digital product passports for every piece of clothing produced.
There is not enough affordable, certified, recycled fabric today to meet the demands of the fashion industry. There are still mountains of textile waste. Once this relationship is broken, we can develop a model that works for weight in the apparel industry.
At COP27, industry leaders and policy makers committed to the infrastructure needed for fashion circularity. This is essential if we want to reduce textile waste and tackle fashion's heavy carbon footprint. Currently, an average of 8% of inventory is lost or discarded across all manufacturing sectors, which equates to approximately $163 billion worth of inventory. Simply, if we can extend the life of clothing – reselling or upcycling worn items – and recycling fabrics on an industrial scale, we can make real progress towards important sustainability goals.
Infrastructure for textile recycling
We are certainly seeing that with the funding of textile recycling. There is a lot of EU investment and brands themselves are investing in recycling partners.
Digital ID technology plays a vital role in closing the circularity cycle regarding recycling. Once you have a digital label on clothing, firstly you tell the consumer where to get the item the right way for recycling, and secondly it helps the recycler know the fiber content and what to expect from it.
Avery Dennison is well positioned to help brands and manufacturers adopt a circular fashion system enabled by digital identity. We sit between brands and manufacturers. We have built the technology – triggers and data platform (atma.io) and can advise on practical best practices.
Green washing
Accusations of greenwashing have been rampant in the press this year and greenwashing was, quite rightly, a topic of conversation at COP27. Brands must accept that there is no room for empty promises. I believe we are now seeing an acceptance in the fashion industry that poor ethical and sustainability standards hurt reputation and bottom line.
Eco claims made by fashion brands need to be properly substantiated. Digital product passports will be a big part of this as they provide the necessary gateway to communication and authentication.
Greenwashing will not be an option for long. An item-level environmental reporting law is coming soon – it will go live in France in January 2023 for companies with revenues above EUR50m. Apparel companies need digital tools to help them track, report and verify the composition and ecology of their clothing and packaging.
Debbie Shakespeare, Senior Director of Sustainability at Avery Dennison participated in the following session at the COP27 event in Sharm El Sheikh: "Mitigating Climate Impacts Across the Value Chain – Best Practices from Sustainable Textiles and Apparel."
Click here for all of Just Style's coverage of COP27.