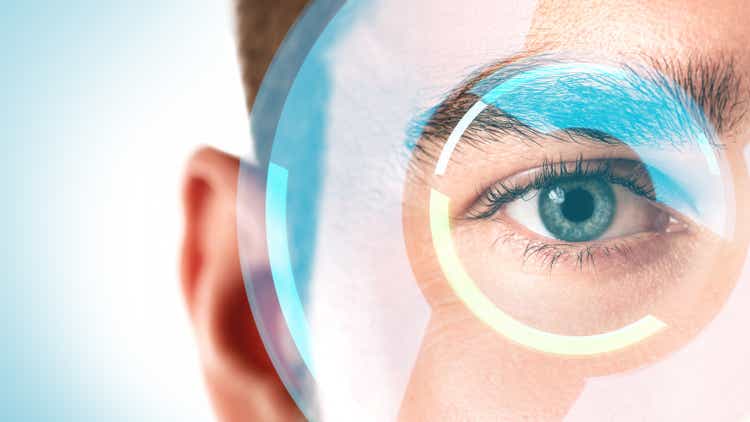 Preamble
Since my previous article on STAAR Surgical (NASDAQ:STAA) published on 28 November 2022, the stock price has risen 34.6% from $58.93 to a high of $79.34 on 2 Feb 2023 but not before it first cratered 20% to $46.82 on 28 December 2022. And from that February high of $79.34 it crashed again, this time by 30% to $55.39 on 28 February 2023.
Two reasons led me to invest in STAA in the first place – the quality of the leadership and the fundamentals of the company. In my previous article, I focused on CEO Caren Mason who led the transformational change at STAA that improved the business fundamentals and brought it to new heights. Then, there was a CEO change in December 2022.
I know little about the new CEO Mr. Thomas Frinzi, other than he was appointed to STAAR's Board of Directors in June 2020 and had experience in the ophthalmic and medical device industries at both large, well-established companies and innovative start-ups. Prior to joining STAA, he served as Worldwide President, Surgical for Johnson & Johnson's (JNJ) Vision business, and previously served as Senior Vice President of Abbott Laboratories (ABT) and President, Abbott Medical Optics (AMO). And before Abbott, Mr. Frinzi served as President and CEO of WaveTec Vision, a developer of surgical systems for eye surgery. Additionally, he previously held senior positions in commercial operations, business development, and sales and marketing at Bausch & Lomb Surgical, Refractec and Chiron Vision.
Based on all these things, one can say that the current CEO Thomas Frinzi has relevant industry experience, has served in a CEO capacity before (albeit a much smaller company that was later acquired), and he has experience with STAA since he served on the board since 2020, so he seems to be a good fit for the role. However, only time will tell if he can do well at STAA because Caren Mason left big shoes to fill.
Caren Mason did her job of turning the company around and setting it on solid footing. The current CEO just has to steady the rudder for the business to continue to do well, barring any unforeseen changes.
With that said, my focus in this article will be on the business fundamentals and the direction the current CEO is taking the company.
A Recap of the STAAR Surgical Business
Go for a business that any idiot can run – because sooner or later, any idiot probably is going to run it.
Peter Lynch famously said that in an interview with the newspaper USA Today in 1989. I am quoting one of the greatest investment legends of our times not to disparage the current CEO but to stress that an exceptional business can continue to do well in the absence of an exceptional leader at its helm if the business model is straightforward, can pretty much run on autopilot, the product is ahead of its peers, and the company has a dominant market share. All a CEO needs to do is follow the established playbook and the business should be fine.
So, is STAAR Surgical such a business?
I covered the business in-depth in my previous article, so here is a brief recap.
What Does STAA Sell?
According to its most recent 10K,
STAAR Surgical Company designs, develops, manufactures, and sells implantable lenses for the eye and delivery systems used to deliver the lenses into the eye. We are the leading manufacturer of lenses used worldwide in corrective or "refractive" surgery. We have been dedicated solely to ophthalmic surgery for over 40 years. Our goal is to position our refractive lenses throughout the world as primary and premium solutions for patients seeking visual freedom from wearing eyeglasses or contact lenses while achieving excellent visual acuity through refractive vision correction. We also make lenses for use in surgery that treats cataracts.
The two key STAA products are the implantable Collamer lens (ICLs) and the intraocular lens (IOLs). As mentioned in my previous article, STAA has been gradually moving away from the less profitable IOL segment to focus on the more profitable ICLs segment. At the Q4 2022 earnings call, CFO Patrick Williams reiterated the company's direction announced in the previous earnings call to stop supporting the lower-margin cataract IOL business by the end of 2023, to focus on the more profitable ICL segment.

What Is STAA's Business Model?
I will describe the business model as straightforward. After all, 100% of the Company's sales are generated from just one segment, the ophthalmic surgical product segment. There are four parts to STAA's business model.
Firstly, STAA develops a superior product and continually invests in research and development to improve the product.
In 2023, STAA intends to focus its research and development efforts in the following areas:
Development of presbyopia-correcting ophthalmic medical devices, including models that correct cylinder (i.e., astigmatism), including clinical trials of the same;
Development of preloaded injector systems for ophthalmic medical devices; and
Development of a new generation of ophthalmic medical devices and materials.
Research and development are not just for developing innovative products. The body of knowledge on STAAR Surgical's Implantable Collamer Lens (ICLs) products is extensive. A search on Google Scholar using the keywords "STAAR Surgical implantable collamer lens" yielded 1450 results. This year alone, 23 research papers have already been published on STAA's ICL. All this body of research, many of which are on establishing the reliability and safety of STAAR's products, will certainly go a long way to convince surgeon clients to adopt its ICL and convince different regulatory authorities around the world that its products meet the safety requirements for a medical device registration license which will allow STAA to continue to sell in the currently more than 75 countries worldwide, and open doors to STAA selling its products to more countries and hence increasing its total addressable market.
Future Market Insights projects that the global implantable collamer lens market will grow at a 13.1% CAGR to reach a market size of $838.2 million by 2023. According to STAA's June 2022 Investor Presentation, STAA had already established a massive foothold of around 9% of the world's ICL market share.

Based on this study, there should be around 2.6 billion people globally (34% of the world's population) with myopia. That number is expect to increase to 3,361 million by 2030 (39.9% of the global population). These studies underline the huge tailwinds behind industries that address this growing problem.
Therefore, I am glad to hear management reiterating their spending on R&D. For fiscal 2023, STAA expects R&D expense to be approximately 13% for the full year which is approximately $11 million each quarter of $44 million, up from the $36 million in 2022. However, despite the increase in R&D spending, this represents a decrease in spending as a percentage of expected 2023 sales. More on this later.
Secondly, STAA educates eyecare physicians and surgeons regarding the efficacy of their products. STAA will then train surgeons and certify them to implant EVO lenses. In the United States, STAA exceeded its goal of training 600 surgeons by the end of 2022. The United States is a fast-growing market for STAA since it received FDA's approval of its EVO ICL product in March 2022. Having that first-mover advantage is a big deal. ICL unit growth in the U.S. exceeded the previous outlook and was up 55% year-over-year in fiscal 2022 and up 109% year-over-year in the fourth quarter.
Although the U.S. market is not the largest piece of the pie, it is one of the fastest growing geographically.

While sales in its largest market, China, jumped by 100% from 2020 to 2022, sales in North America surpassed that, increasing by 138% in the same period.
Q4 2022 earnings call commentary from the CEO is bullish on the U.S. front:
Doctor Finder visits in the U.S. were up approximately 600% year-over-year in the fourth quarter…

My meetings in recent weeks with surgeon customers confirm the growth opportunity for EVO in the U.S. In one meeting, I met with an individual surgeon, increasing his commitment to EVO from 100 lenses per year to 500 plus. In another instance, I met with a laser vision correction chain that is increasing its commitment to EVO from 500 lenses to 2,000-plus annual lenses in 2023.
Thirdly, STAA spends a significant amount on sales and marketing which seek to position the ICL as a premium and primary option for appropriate patients at the clinic and via digital and social media.
The marketing efforts involve its personnel attending and participating in major ophthalmic conventions around the world, investing in market development, practicing support, healthcare professional training, and patient outreach. STAA has started working more closely with leading refractive clinics in the area of training, product awareness, and practice development.
STAA goes beyond training and certification to enable surgeons to feel confident with EVO. STAA's focus for 2023 will be to increase surgeon comfort, confidence, and commitment to EVO ICL by surrounding these surgeon customers with sales, clinical, and marketing support as they work to add EVO ICL to their practices and/or transform their practices for more lens-based refractive standards.
All these meant that the company expects selling and marketing expenses will be approximately 38% of net sales. While I am glad the company is maintaining the spending in this category to support surgeons and to increase awareness of its products, 38% of net sales are significantly lower than what STAA spent in any of the years prior. More on this later.
Fourthly, STAA continues to expand internationally, and especially in its largest market – China. Sales to China have doubled from $71 million in 2020 to $148 million in 2022.

With China relaxing its zero-Covid measures, the CFO expressed cautious confidence that sales in its largest market will further normalize as the peak summer implant season for ICL procedures closes in and STAA can meet its total sales outlook for the full year of fiscal 2023 of approximately $340 million, representing a 26% growth over fiscal 2022 ICL sales of approximately $270 million.
To conclude this segment, I have broken down STAA's business model into these four parts. To be clear, it was Caren Mason who worked out the nuances of the STAA playbook and turned the company into the successful enterprise that we know today. These straightforward steps – continue to invest in R&D, develop the fast-growing domestic business, invest in sales and marketing to educate eyecare surgeons and support them clinically and in their own marketing, and expand internationally – are pretty much something anyone can follow.
Later, we will see if the current CEO is following the playbook or if he is changing it.
The Current Fundamentals
This company is an amazing turnaround story, dramatically turning four consecutive years of negative income to sustained and growing positive income since 2018.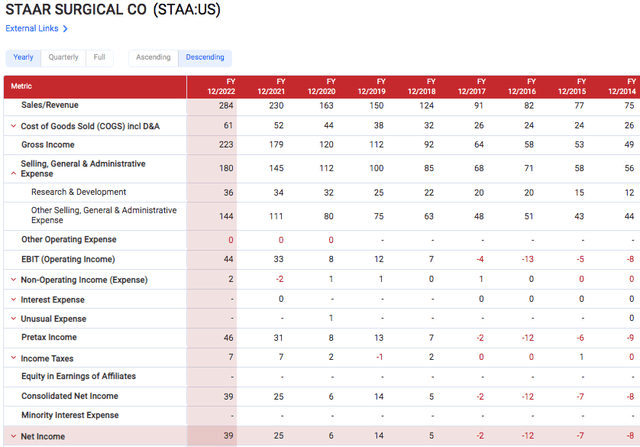 Between 2018 and 2022, revenue increased by 129%, and net income surged by 680%, and all this happened in spite of the pandemic and the accompanying strict measures in hospitals that delayed non-essential procedures.

In the same time period between 2018 and 2022, STAA doubled its cash and cash equivalent position from $104 million to $212 million. And after accounting for all its debt, STAA is in an envious net cash position of $181 million.
Not to belabor the point about the strength of the balance sheet but there are not many companies that I know of that have a negative net debt balance sheet. Companies with negative net debt possess more cash and cash equivalents than their financial obligations, and hence are more financially stable. Just for the sake of comparison, let's look at the net debt situation of some of the largest U.S. companies in Fortune 500.

This is not to say companies like Walmart (WMT) and Amazon (AMZN) are going out of business. If companies have strong operational cash flows, and the repayment period for the long-term debt portion is staggered many years out, having some debt is not an issue; some debt can even be a good thing when well managed. However, when investing in a much smaller company like STAA that is operating in very uncertain macroeconomic times, it is comforting to know that this company has more cash than all its debt combined.
Analysts Expectations
During the Q3 2022 earnings call, then-CEO Caren Mason said:
As we look to fiscal 2023, despite the aforementioned challenges, we expect to achieve approximately 30% ICL sales growth year-over-year to approximately $355 million in total company net sales, which contemplates limited sales from other products.
When the company reaffirmed guidance for FY 2023 with a lower $340 million in net sales than previously guided, and was also lower compared to the approximately $344.0 million from analysts' consensus, the share price dropped sharply.

From 2018 to 2022, investors have been used to STAA growing revenue at a fast clip ranging from 21% to 41%, with the exception of 2020. And based on management's revenue guidance for 2023, it is guiding for a 19.6% revenue growth rate which by itself is good but taken into the context of STAA's past history, 19.6% is disappointing.
And as if on clockwork, analysts followed by lowering their price targets and some like BTIG Research even moved STAA from a Buy rating to a Hold.

Ryan Zimmerman from BTIG Research, the same analyst who upgraded STAA from Neutral to Buy with a price target of $98 a year ago based on the FDA's approval of EVO ICL enabling more U.S. physicians to consider trying EVO ICL even though China's zero-Covid policy delayed refractive surgeries in various provider locations, just lowered his call from Buy to Hold at a time when actual growth in U.S. sales had shown to be strong, and China has lifted its zero-Covid policy. He questioned if the company can increase its market penetration in China to meet its fiscal 2023 guidance. In his note to investors, he wrote that STAA is "wed to China and investors are subsequently wed to the undulations of the Chinese economy." To achieve STAAR's fiscal 2023 revenue guidance of $340 million, STAA has to "increase market penetration by hundreds, if not a thousand, basis points to meet its outlook" and he believes these increases are likely to prove challenging.
I get his concern about the concentration risk but just as I do not follow his reasoning for the optimistic price target in 2022, I do not follow his pessimistic view for 2023.


If STAA's revenue growth in a country with 2 billion people will be an issue in 2023, how would the explosive increase in sales in China be explained if there is no demand?
And is it really so bad for STAA's growth to be "wed to China and investors are subsequently wed to the undulations of the Chinese economy", when China's GDP growth is expected to be the highest for the next three years when compared to the United States as well as the rest of the G-20 countries?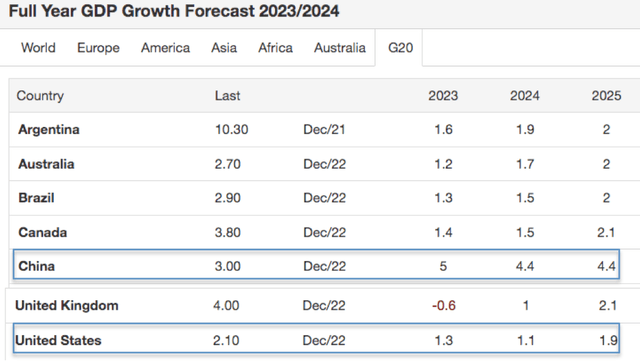 The same analyst, along with a colleague, wrote another note in December 2022. In it, they said they priced in 25% growth for STAA, but if the company grows below that level, share prices may fall into the $30 range.
Yet, despite the lack of enthusiasm from analysts in general, as of 3 March 2023, the consensus price target on STAA is still $79.50, representing a 32% upside from the closing price of $59.94 on 3 March 2023.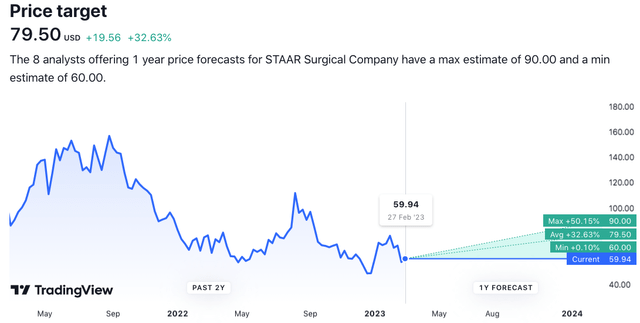 Valuation Based on Future Growth Expectations of Earnings and Sales
Comparative Valuation
From the point of view of P/E, P/S and P/B, STAA is crazy expensive. Yet, when comparing these same valuation metrics to STAA's 5-year average, one has to agree it is definitely cheaper.

Valuation Using Peter Lynch's PE = Growth Rate
In his book One Up on Wall Street, Peter Lynch explained one of his preferred metrics for determining a high-level valuation of a firm's investment prospect. Given a stock's price-to-earnings (P/E) ratio and growth rate, he interprets them as follows:
The P/E ratio of any company that's fairly priced will equal its growth rate. . . . If the P/E of Coca-Cola is 15, you'd expect the company to be growing at about 15 percent a year, etc.
Taking the highest range of analysts' forecast of the earnings growth rate of 37.5% for the next 3 years (and hence a PE of 37.5), and assuming the diluted earnings for STAA recover to $1.66 per share by FY 2025, valuing STAA this way will result in a fair value of $1.66 x 37.5 = $62.25 which indicates that STAA is trading around fair value now if it can sustain a growth rate of 37.5% for three years.
If the growth rate falls to 30%, however, then the fair value declines to $1.66 x 30 = $49.80.
Valuation Based on Earnings Growth and Earnings Multiple
In my previous article, I wrote:
So long as the growth rates are able to sustain at 30% or higher, the downside is limited while the upside is 2 to 6 times more than the downside
Well, analysts are now projecting a decline in earnings per share in FY 2023. STAA generated $0.78 in diluted earnings in FY 2022. FactSet analysts expect that to decline to $0.61 in FY 2023 before doubling to $1.20 in 2024 and growing to $1.66 in FY 2025.

In other words, despite the expected fall in diluted earnings in FY 2023, FactSet analysts still expect an average diluted earnings per share growth rate of 37.6% for the next three years.
Refinitiv analysts are forecasting lower diluted earnings per share growth rate of 30% per year for the next 5 years.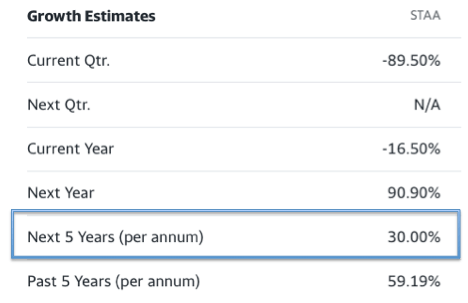 SPGI analysts are also forecasting a 30% growth in earnings per share for the next 3-5 years.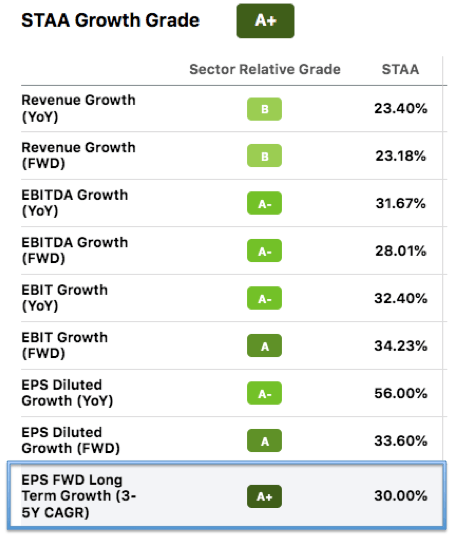 Averaging these gives me consensus analysts' expectation of 32.5% growth rate in diluted earnings for the next 3-5 years. For a long-term investment, a 32.5% earnings growth rate is attractive, and my previous investment thesis is still largely intact.
However, I must contend with the fact that the reiterated guidance of $340 million is $15 million shy of the previous guidance of $355 million, suggesting that the management is setting a lower bar in anticipation of possibly more headwinds. Also, the situation now is less rosy than the situation depicted based on Q3 2022 guidance and analysts' forecasts then. Due to the lowered earnings growth forecast, I do agree with analysts' lowered consensus price target of $79.50 representing less upside than when I wrote my previous article.
The table below lays out possibilities.

I assumed a 20% fall in diluted earnings in FY 2023, followed by varying EPS growth rates from 20% to 40% in 5 scenarios in 2024. The row highlighted in yellow is the most likely scenario with EPS growth rate of 30% (closest to analysts' latest projections).
To build in a margin of safety in my assumptions, I considered three possible valuations that STAA can trade at, each at varying levels of discount to the current PE of 76.85 to simulate further de-risking. Bear in mind that the lowest STAA has ever traded at was a PE of around 61 on 30 December 2022, and my best-case scenario assumes its PE corrects to that lowest level.
In the best-case scenario where PE falls a further 20% to a PE of 61.48, investing in STAA at the current price of $59.94 provides a possible 16% upside if earnings can grow at an average of 30% per year for two years. In the worst-case scenario where PE falls by 40% to 46.11, investing in STAA now may result in a 13.5% loss. Based on an earnings growth rate of 30%, and a balanced risk-reward investing using my conservative assumptions at the current price, I will say that STAA is fairly valued now.
A good (or poor) investment is always a function of price. Howard Marks once said:
It's not what you buy, it's what you pay for it that determines whether something is a good investment.
Buying STAA at the price of $55 at which it traded for three days from 28 February 2023 to 2 March 2023 would have offered a 25% upside in two years with just a 7% downside. At that price, STAA would have been undervalued and an excellent buy.
3 Risks Associated With This One-Trick Pony
The first risk is a perceived divergence from Caren Mason's STAA playbook.
Part of Caren Mason's STAA playbook is to invest heavily in SG&A and in R&D. I deliberately isolated the R&D portion out from SG&A to reflect the two different purposes of the expenses: one is on sales and after-sales support, and the other is on product development.
Spending on SG&A is a necessary evil for many businesses. Think KO and PEP. Coca-Cola (KO) spent 30% of its sales on SG&A in 2022, slightly lower but not too far from the proportion it spent in 2013 (36.9% of sales) and in 2003 (35.6% of sales). PepsiCo (PEP) spent 38.8% of its sales on SG&A (excluding R&D) in 2022, close to 37% of its sales in 2013 and far higher than the 25.6% of sales in 2003.
The same goes for STAA. In fact, it is even more important as the sales go beyond simply convincing surgeons and patients to use EVO ICL. To ensure there is continual sales, STAA needs to support eye surgeons with training, certification, and support clinically and in marketing.
This is why I am concerned when the announced spending on SG&A (excluding R&D) is significantly down, from its past 8-year average of 52.5% to the projected 37.9% in 2023. Has STAA reached a size such that it can now spend incrementally more in actual quantum but far less as a percentage in revenue? Or is the new CEO attempting to cut back on costs to increase the net income attained in 2023 to boost those earnings per share?

Likewise for R&D spending. As a percentage of 2023 sales, the company is expected to spend just around 13%, a 28.6% reduction from its 8-year average R&D spend of 18.2% of sales during Caren Mason's time in STAA, edging closer to the 11.7% of sales spent in the terrible era before she took over the reins.
I do not know the intent of the CEO but attempts that can be interpreted as inflating net income artificially through drastic cost-cutting usually concern me greatly. This is legal, definitely, and many companies do that, especially in recent months with companies announcing layouts and cutbacks in spending to boost profitability. However, it does not mean I have to like it, especially when these moves possibly diverge from the successful playbook employed by the previous CEO.
The second risk is China.
My former boss loved to say,
Your strength can also be your weakness.
China is STAA's largest market, representing more than 50% of its total revenue, an increase from 43.9% of its total sales in 2020 to 52.1% in 2022. The growth of EVO ICL in China is certainly impressive but this single-market concentration is definitely a risk that investors have to factor into their investment decision and asset allocation. If trade relations with the U.S. were to sour and result in trade restrictions, if social or political unrest were to disrupt business in China, or if other events in China significantly reduced or disrupted business activities in China, that may materially and adversely harm STAA's business. Although I like STAA's dominant market-leading position, I will not go all-in with this company.
The third risk is competition from LASIK.
EVO ICL procedures remain at a premium to LASIK. Different clinics will offer slightly different prices, but just to have a sense of the numbers, this particular clinic charges $3,998 – $5,498 for a LASIK treatment for both eyes, while the cost for EVO Visian ICL procedures ranges from $7,998 – $8,998 for both eyes.
This clinic offers a great comparison table listing the pros and cons of various alternatives to ICL. There are clearly many more advantages to using ICL versus LASIK. One of these is patients treated with LASIK have higher risks of dry eyes and cornea flap infection, while patients treated with ICL do not encounter any of these issues. The Federal and Drug Administration is currently weighing whether or not surgeons should provide additional warnings about the risks related to LASIK surgeries. In a draft guidance from July 2022, the agency suggested that patients should be explicitly informed about the risks of dry eye, problems driving at night, visual disturbances – or other rare but more serious side effects related to the surgery. If FDA does pass such guidance, it could possibly push more clients in STAA's way.
Conclusion
Warren Buffett was once asked what attracted him to the management of Moody's (MCO), to which Buffett responded:
I knew nothing about the management of Moody's. I've also said many times in reports and elsewhere that when a management with reputation for brilliance gets hooked up with a business with a reputation for bad economics, it's the reputation of the business that remains intact.

If you've got a good enough business, if you have a monopoly newspaper, if you have a network television station — I'm talking of the past — you know, your idiot nephew could run it. And if you've got a really good business, it doesn't make any difference.
STAAR Surgical's business model is not as simple as Moody's, but it is straightforward enough such that even if a CEO who is not as talented as Caren Mason is at the helm, the business should still do fine. Similar to a newspaper and a network TV station, STAA has a dominant position in the market that it serves. And unlike a newspaper and a network TV station, STAA is backed by a huge and growing tailwind of an increasing number of people with myopia.
Caren Mason left CEO Thomas Frinzi a STAAR Surgical that is in a much better shape than when she first found it. STAAR Surgical is now flush with cash, has low total debt, and has a superior product that is growing in demand in most of its major markets (China is up 38% year-on-year, India is up 37%, Korea is up 18%, and Japan is up 14%; North America region sales increased 51% due to sales growth in the U.S. up 59% and Canada up 10%).
And STAA's business in China is also handed to CEO Frinzi on a silver platter. China is STAA's largest revenue contributor in 2022 at 52% of net sales, and since China has removed its zero-covid policy pent-up demand from previously delayed procedures will surely boost sales in the coming quarters. And with FDA's approval of EVO ICL in the U.S. in 2022, U.S. sales of EVO ICL has skyrocketed and progress has been great, with over 600 surgeons trained and certified so far.
I stand by the statement I made in my previous article that STAAR Surgical is a wonderful company. It is by no means cheap at $59.94 but it is arguably trading at fair value now if it can sustain a growth rate of at least 30%. However, with a new CEO in charge, with the revised-down revenue guidance for FY 2023, the lower expected revenue and earnings growth prospects (but still double-digit growth nonetheless), and the decline in the planned expenditure on sales and marketing, and research and development, both as a percentage of total sales, I will say that an investment in STAA now is riskier than it was just a quarter ago, so more caution such as appropriate portfolio sizing is necessary.