Posted in: December 30, 2022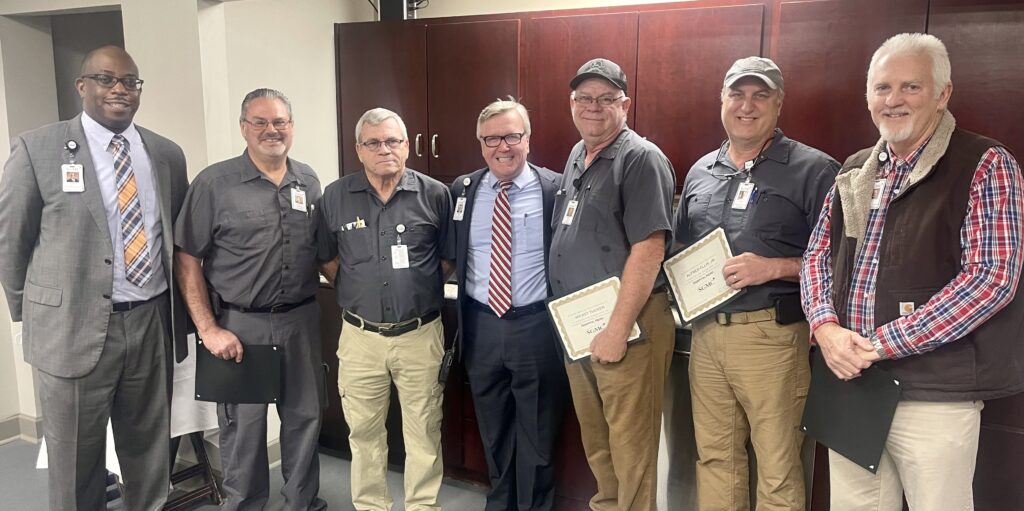 Georgia Southern Medical Center honored its Engineering and Facilities department as Health System Heroes at its monthly Board of Directors meeting. Rick Oelkers, Director of Engineering, Jed Allen, Construction Manager and the entire team were honored for their essential work in building and maintaining the facilities over the past year.
The department has facilitated a number of major projects in recent months, including the completion of four major renovations. This includes construction for Graduate Medical Education quarters on the main campus, a new SGMC Internal Medicine practice for SGMC's residency program, a redesign of the Surgery Complex in the Professional Building, and the relocation of Urgent Care to a new facility renovated at the Smith Northview Campus.
In addition to major construction projects, the department maintains 1.5 million square feet of space to include four hospitals and 52 additional buildings that house other medical services such as primary care and specialty offices. With a staff of 28, that's no small feat.
Oelkers has been an integral part of SGMC's facility maintenance for 20 years, and Allen has overseen construction at SGMC for eight years.
"This team works long hours, often answering calls in the middle of the night, but their hard work does not go unnoticed," said Johnny Ball, Senior Vice President of Regional Hospital Operations. "We thank them for their essential role in our health system and their commitment to keeping us all safe."
The honorees received a standing ovation from the audience.
For more information, visit sgmc.org