This Thursday saw a veteran nurse save the life of a three-month-old baby who had suddenly stopped breathing aboard a Spirit Airlines flight from Pittsburgh, Pennsylvania to Orlando, Florida. The scary moment happened shortly after the flight took off.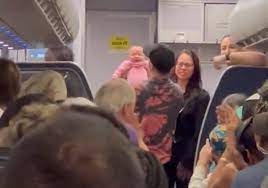 Further details
Just 30 minutes after flight 1691 took off, the parents of three-month-old Anjelé were shocked when their baby suddenly experienced respiratory complications on board. This immediately attracted the attention of a 20-year-old nurse, Tamara Panzino, who quickly rushed to the baby's side. Viewers saw the nurse massaging the baby's legs and neck, which worked successfully as the baby was seen breathing moments later. Fox 35 News Correspondent Ian Cassette shared the incredible moment via video footage on Twitter, along with praising the nurse for her incredible work on the plane. Due to the quick thinking of nurse Tamara Panzino, the remainder of the flight went remarkably smoothly, without Sprit Airlines having to force an emergency landing.
Nurse Tamara Panzino has since spoken to WESH TV about the horrific events.
"I had no idea if the baby was suffocating or if the airway was clear and I didn't know what I was dealing with. I saw a baby with her head back, blue lips and blue skin, clearly distressed and not breathing. And my heart just dropped."
She further explained to Fox News how playing a role in saving such a young baby's life was very rewarding.
"When you have to step up and do what's right, you do it. It was just a happy story and it made me feel really good."
The toddler's parents have since spoken out and thanked Tamara Panzino for her 'heroic actions' that saved their daughter's life.
What a wonderful story this is indeed! Let us know what you think about it below.