If your New Year's resolution for 2023 is to be less jealous – jokingly at least – we recommend you take a look now. But while it may have been Courtney Davis' beloved closet that initially hooked us on her Instagram feed, you can bet this mom of two has a lot more up her precious YSL blazer sleeve. In fact, the Texas-born, NYC-seasoned and Connecticut-based comedian is flexing her creative muscles as creative director of Palm Beach staple Court of Brazil. A 1920s-era boutique hotel with more elegance, tasteful additions and meaningful partnerships are high on her agenda to complement PB's growing international presence. We called her to find out what's coming!
What are some of the highlights of this season at the Brazilian Court Hotel?
There's no better place than Palm Beach in the winter – and the Brazilian court has always had that real 'letting go' feel. This season, we are offering sunset yoga classes on Friday evenings with a live DJ on our North Campus. We partnered with my favorite yoga teacher, Holly Miller of Yoga Society. I wanted guests to come in for the weekend, do some yoga under the palm trees, and then have our signature wellness cocktail – the Namaste Buzzed – right away (drinking is always a great workout inspiration for me). We're also proud to be celebrating our 20th anniversary with Chef Daniel Boulud, and are hosting a big event in January to celebrate all we've accomplished together. We are currently completing the redesign of all of our guest rooms on property (check out Instagram for this month's reveal) and of course, we continue to partner with fashion and wellness brands, like Casa, to host a boutique at the Brazilian Court. .
What are some recent personal highlights?
I somehow survived 2022 when I had a 3 year old and a 1 year old. Congratulations to all who are managing the same! I think I'm still married—so that's success! As a mom living in the 'burbs and getting to know myself better (that's "with a capital S" as my therapist says), I enjoy finding the comedy. I always thought when I left New York, I might have to give up stand-up, but since moving to Westport I've been doing comedy all over Connecticut and the city. I do morning radio on Star 99.9 Unsolicited dating advice; My favorite kind, of course. I hosted my first live auction, and we raised over $1 million for breast cancer patients—it really felt like a calling for me. And last summer I started hosting mystery comedy shows in my backyard. The finale was about 80 people, a full bar, a DJ, and some of my favorite comedian friends and I put on a show the suburbs would be proud of. I feel like I built an underground comedy club into that, so I'll definitely continue that when it heats up. The only problem is that my babysitter finally hears all the jokes about her….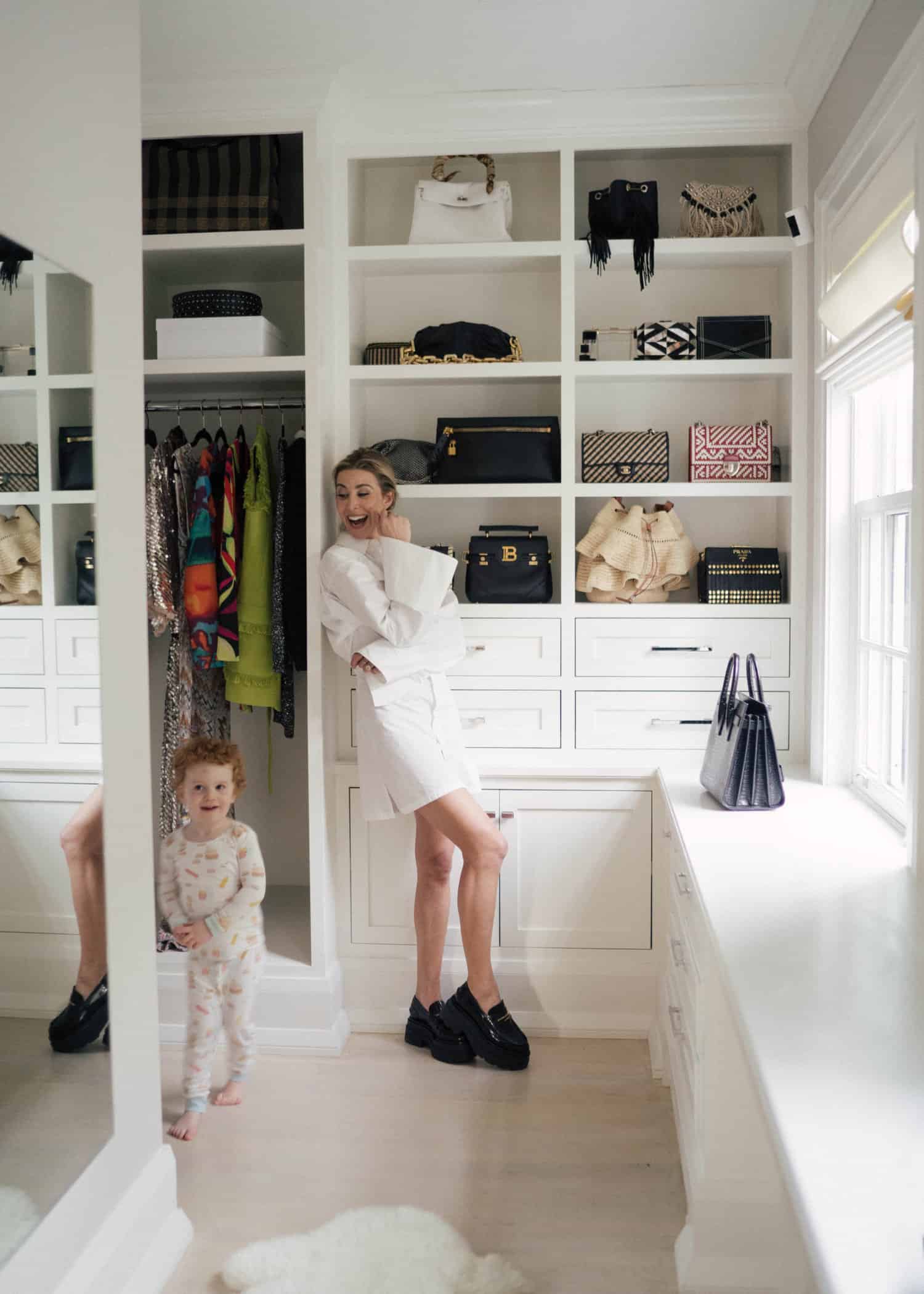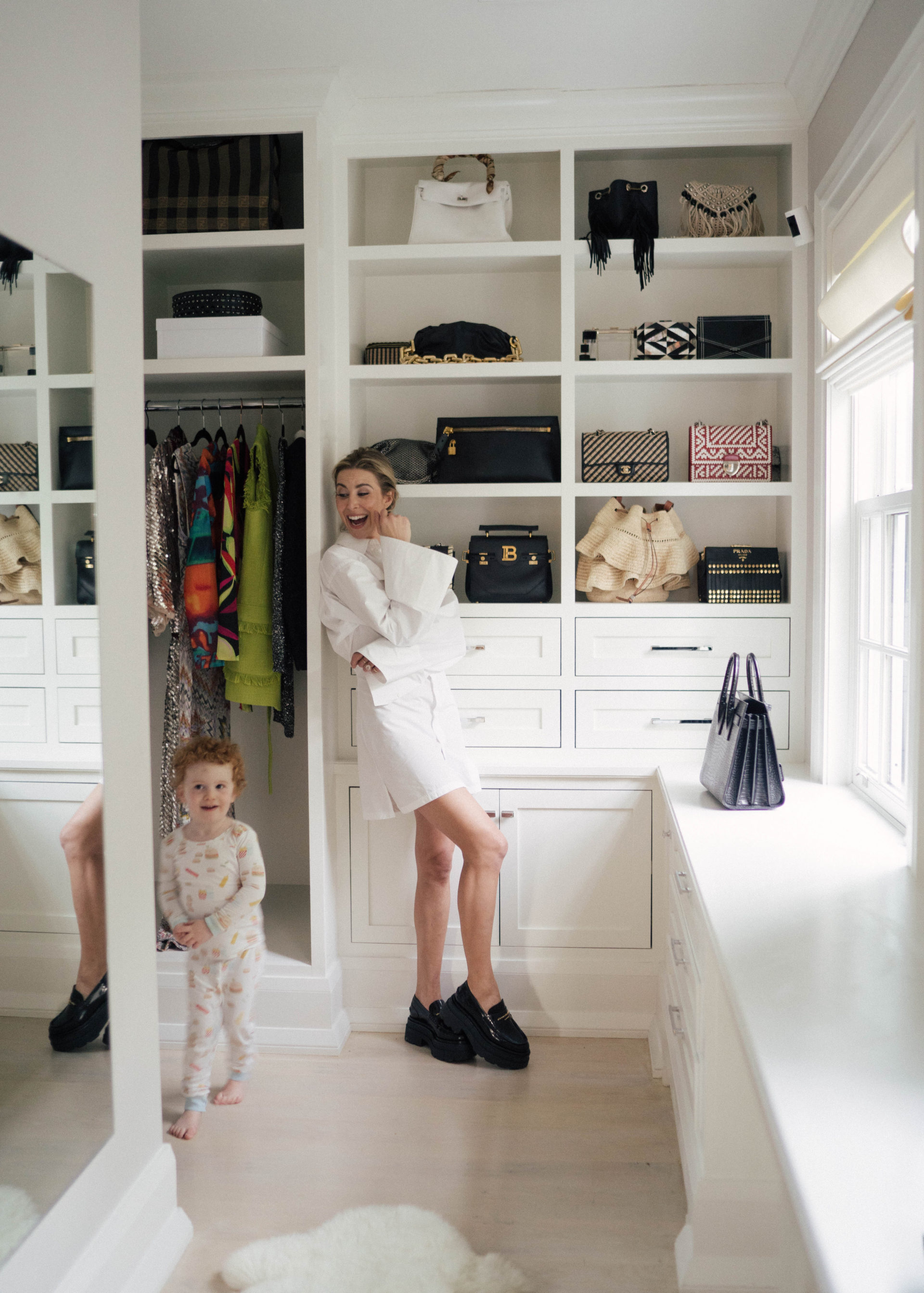 You are known for your sense of humor. Where do you think your funny bone comes from?
I think the way I related to my mom the most growing up was through humor, which I'm not sure is entirely healthy, but that's how you do comedy! Since then I have always sought connection by making people laugh. Before I knew what the stand was, I thought I wanted to be funny, but when I was told that I had to take a bus to the Bronx for training, I decided that it might not be the 'trip' I had planned. Life. Lo and behold, a few years later I end up at shows near Yankee Stadium. I think humor helps in many situations. When I can be vulnerable and tell horrible stories about myself, people seem to feel more comfortable doing the same, and I live for that.
Who or what always makes you howl with laughter?
my husband. He is the funniest person I have ever met. I feel like it's my duty on this earth to share his humor with others, but when I try, he likes to 'turn it off'. He and I like to go for morning bike rides to our local coffee shop, and when I ask him to understand the whole time. One of my favorites is Dr. Bobo, a character he created called a pediatric plastic surgeon to the stars. It takes your child from 7 to 10 in 12 months. One of these days we'll start talking about real things.
Let's take it back. What was your first job?
I wanted to be like a mobiciter club, so I started a camp at my house and invited my whole neighborhood. Completely unlicensed of course. One of the 'activities' I suggested was zip-lining (already installed by my dad). I bet one big kid broke their nose on the first day trying it out – I forgot to host the camp and went inside to watch TV – and that job was done pretty quickly. I've been a waitress several times (always pushing the vegetarian option, even though it doesn't exist), worked at Saks Fifth Avenue for years (spending all my earnings on clothes), and eventually became Jared Kushner's assistant. (Do I even need parentheses here?) I was always very easy to dismiss.
What does your role as creative director at the hotel involve? And why is the job right for you?
First of all, it's the only job I can quit because it's my family—so that goes for me. But this role brings together everything I love—hospitality, fashion, safety, humor, design… it's all there. The work changes from day to day, which suits my personality. I manage our social media content, create exclusive pieces for our hotel boutique with designers, partner with various wellness brands to enhance the guest experience, and am always on the lookout for great entertainment. I've been planning a dream project that involves bringing in an organized wardrobe for our guests. Our guests are already very fashionable, I can imagine one checking in, opening their closet door and finding a world full of beautiful clothes waiting for them to explore. And of course, I hope to host more events on property for companies that interest and inspire me.
What are some recent projects you have overseen at the hotel?
I designed the first line for our hotel boutique, and I looked for brands I knew I loved, like Business & Pleasure beach towels, bags and umbrellas, and Bala for room weight (I'm not big) on ​​weight, but these are so comfortable and stylish, you almost . want to do). We created some really cute BC branded sweatshirts and hats that I'm obsessed with. I am very lucky that my husband gives me a lot of rest and gives me the confidence to find the right partner to work with. Although he has prepared many different types of property, the Brazilian court is his crown jewel, and I try to make sure that we take that into account in every person or company we work with.
For those who have never visited, how would you describe a stay at the hotel?
Our guest experience is truly unlike any other in Palm Beach. First, it's very private and quiet, and takes you back to that old-world Palm Beach feel. Our guest rooms are the largest on the island as they are designed to accommodate guests who wish to stay longer. My husband, who owns the hotel, grew up in Palm Beach, and has always emphasized the understated charm that The BC is known for. His late mother was an interior designer and designed the entire property to feel like a private Mediterranean home, and although updates are constantly being made, her concept and design have always been respected. She had very beautiful and elegant taste; The finishes and furniture used in the property are meant to last and function for a lifetime. No knocks. I've been to some of the best salons in Manhattan and the team at Brazilian Court Salon is without a doubt the most talented team of stylists and colorists I've ever come across. The palm pool is absolutely beautiful and private, and of course the food is the best in Palm Beach (you can never go wrong with Daniel Boulud, even the plastic is totally picture perfect) and the whole vibe is just love and lust. .
What does a perfect day in Palm Beach look like to you?
getting my kids to sleep by 10AM somehow; walking alone on the beach to clear my mind; going to Vincent Lake Worth for coffee and croissants; to swim in the ocean and write or listen to a podcast; Finding fun costume jewelry at Mariko on Worth Ave and then finding real jewelry from the vintage collection at Betteridge. Ending the day with an Aperol spritz at Saint Ambres, and convincing my husband to take me to Saint Laurent afterwards, if he's had enough. And no day is complete without dinner under the stars on the terrace of Café Boulud.
Your social media snaps about motherhood always get LOLs – but what's so rewarding about it?
I am on social media to help myself and others feel less alone about motherhood. It gives me endless joy to hear from other people that they relate to what I am talking about. It's like no other bond! Being a mom is the most beautiful thing, and I've learned so much about who I want to be and who I want to bring into this world…but it's so complicated. I feel like we've been fed such false promises of how easy it will be! I wrote a joke that said, "I thought I was going to get married, have kids, and get ready for life—then I got married, had kids, and now I want to end my life." Is that too dark?!
We're obsessed with what we see in your walk-in closet on Instagram… What are five things you can't live without?
thank you! What you spend every day is an obsession. It's an endless passion for me. I'm obsessed with my black Saint Laurent blazer, which I can wear with both anything and/or (almost) anything underneath. I have an old pair of Chanel leather loafers that I got at FiveStory Palm Beach, and I know I won't be able to find them anywhere else. I'm from Texas so I wear cowboy boots with everything – I usually like Lucchese, but I found a very comfortable pair from Dorothy Shoemaker. The Free People Jumpsuit is my go-to for something simple and effortless. A classic Prada dress that I shortened by six inches and now fits me perfectly. And my most prized possession is a piece of jewelry that my husband wears every year at Taffin, designed by James de Givenchy. Each piece is very unique and incredible; I feel so unworthy, but I accept them. One has to do it.
What are some new labels you've come across and are loving?
I just found Casablanca – they have a couple of really cool sets that you can wear to cocktails or tennis. I also love Copernicus, Pfeiffer, Luisa Ballou and this Brazilian designer Andrea Almeida who creates beautiful craft pieces. I also found these perfectly fitting bras at Marie Jo… leave it to Dutch to make the underwear.
How did you spend the holidays and what do you have to survive?
Somehow I've hosted Thanksgiving at my house for the past couple of years, and the best thing I need is to rent tables and chairs and hire a caterer to do the hard work! I can make guacamole and that's about it. I love finding new tablecloths and fun glassware from Etsy for every occasion. I also don't worry too much about trying to get gifts for everyone and make everything look perfect – it's just what it is and I'm trying to do my best!
What is one thing you will leave behind in 2022 and wish for more in 2023?
I'm trying to say no to more stuff and make room for myself for what I really want, although it's really hard to say no to new arrivals emails on Net-A-Porter… maybe I'll save that for 2024.
Subscribe to our newsletter and follow us on Facebook and Instagram to stay up to date with all the latest fashion news and juice industry gossip.