"Did you know that John Glenn visited here to get a feel for walking on the moon?" asked Johann Helgi Gislason, a member of the host team at Blue Lagoon Iceland Retreat, as he gave me the welcome tour.
Looking at the moonscape outside the walls of windows that adorn the property, I could easily believe it. Despite being groggy after my direct overnight Icelandair flight from New York, I was blown away by the otherworldly view of the lava fields surrounding the property.
I had previously visited the famous Blue Lagoon, located about 14 miles from Keflavik Airport, and experienced the wonders of the lagoon's public area, but the 62-room Retreat takes that experience to another level.
Located close to land and with exclusive access to private lagoon areas, the boutique property puts relaxation and self-care front and center, with a heavy dose of sustainability and eco-friendliness on the side.
But while the hotel is very classy, ​​it exudes a relaxed vibe (picture guests wandering the halls in their robes and spa slippers).
Breakfast is in the lobby lounge, where you just show up and the English-speaking wait staff instantly appears, offering buffet and a la carte options — all complimentary to guests. Also complimentary coffee in the afternoon (a Nordic tradition, although there is also tea and cocoa), complete with pastries and savory dishes.
The main attraction at the Retreat, however, is the 13,500-square-foot subterranean spa, built within and among lava formations and offering access to private and public areas of the geothermal lagoon.
For my first foray, I made a beeline for one of the lagoon's private areas to soak in the warm, blue water. I then headed to the Blue Lagoon Ritual area, where the spa staff guides you through steps aimed at making the best use of the healing properties of the geothermal feature.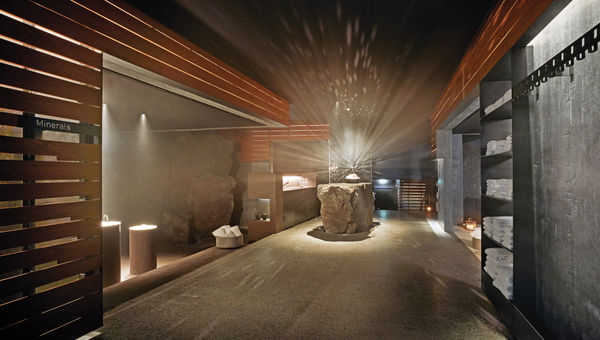 Underground Spa at Retreat. Photo Credit: Courtesy of Blue Lagoon Island
Going gaga for goo
If you've ever seen images of people in the Blue Lagoon smiling with white bulbs on their faces, this is the famous silica that people swear by for skin revitalization. At the public lagoon, visitors scoop it out of the bucket and dab it on, but at the Retreat, the mud is applied more elegantly in a cave-like setting, with relaxation areas where you can wait for the mouth to work its magic.
Algae and mineral applications follow, some of which are believed to provide medicinal as well as cosmetic benefits. Post-treatment rooms range from cozy nooks with fireplaces and lounge chairs to hanging basket seating at the Nest, where I often found myself drifting into a spa-induced coma, staring into the steaming blue water.
I also opted for the Retreat's newest spa offering, a float therapy treatment where you put on a helmet and float pads for your knees that allow you to easily bounce in the water while a therapist moves you alternately in the water and provides a gentle massage .
For guests who want an even more exclusive spa experience or for families with young children who would not normally be allowed in the lagoon, there is a daily Lava Cove rental suite that sleeps up to six people, offers butler service, in-room treatments and access to its own private lagoon.
Other features on the property include daily group yoga and a fitness center, as well as a library with a fireplace and honor bar. The concierge can arrange off-property excursions, such as guided tours of the Reykjanes Peninsula in a chauffeur-driven sedan, private helicopter or ATV.
There is also a terrace from which guests, who may choose to wake up, can view the northern lights, should they appear.
There are six suite categories at the Retreat, all with private terraces and heated floors. Photo Credit: Courtesy of Blue Lagoon Island
Room with a view — and much more
I don't usually spend much time in a hotel guest room, no matter how fancy, but in this case, mostly because of the view of the lava fields, interrupted by a stream of iridescent blue lagoon water that offers massive bathtub. the same view, spa-centric skincare equipment and generous minibar with complimentary drinks.
There was what Gislason called a forest in the distance, though what I saw — and only with my glasses — was more like a farm of Christmas trees. That said, there are tree-lined hiking trails for those who want a little activity on solid ground.
Note that guest rooms do not have televisions, a decision the property developers did not take lightly, but which adds to the charm.
As for dining on property, bring your own food. I dined at the Spa restaurant, where I tucked into a massive plate of king crab legs while watching guests sip champagne and smoothies at the swim-up bar.
One night we dined at the Lava restaurant, where local ingredients such as fresh fish and beef took center stage in a bistro atmosphere. On the final night, however, we were treated to a dining extravaganza at Michelin-recommended restaurant Moss – part of a new Guest Chef and Wine Pairing series – led by chef Aggi Sverrisson and accompanied by guest vintner John Schwartz of Amuse Bouche winery of wine in Napa, who filled us with vintages from his winery.
The property's master sommelier, Clement Robert, is on hand for guests who want to enjoy a similar chef's table experience and be prepared not only for the fine menu options — including vegan dishes — but for the presentations as well. Amazing.
There are six suite categories, all with private terraces and heated floors, and rates start at $1,260 for a 431-square-foot Lava View Junior Suite; the rate for the 754-square-foot, two-bedroom Blue Lagoon Suite is available upon request.