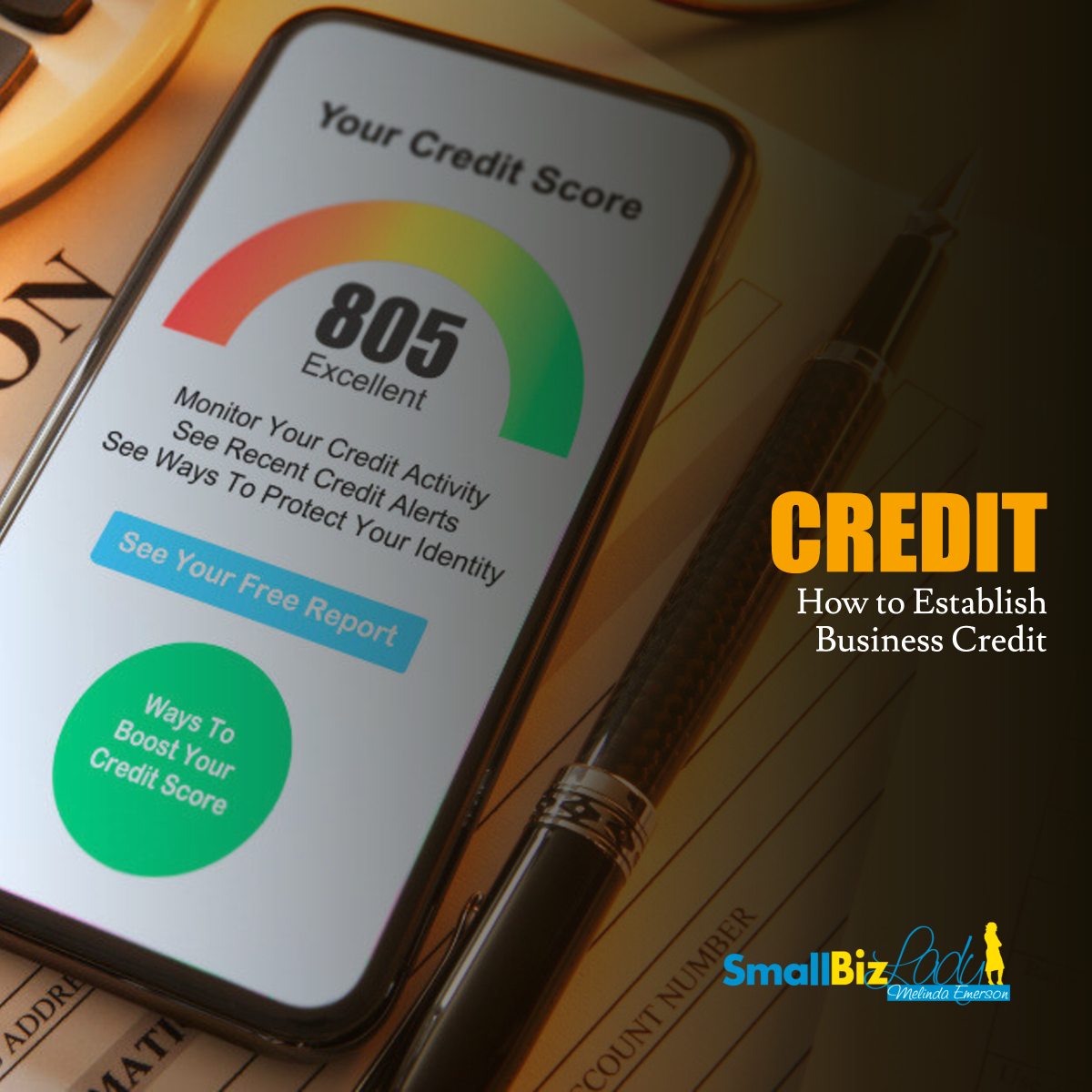 It is important to establish business credit as soon as you decide to start the business. Having good business credit is always important, and you should also understand how bad credit can affect your business. The most influential aspect of business credit is your ability to secure financing. If you have bad credit, you won't be able to qualify for loans, credit cards, and other types of financing. This can be disastrous for a new business. When you understand your bottom line and keep it high, you're on your way to running a successful business.
Building business credit doesn't happen overnight. You need to make sure your business is registered with the appropriate credit agencies, set up business accounts that report to the business credit bureaus, and pay your bills on time. Building strong business credit can benefit your small business in many ways. With a high business credit score, obtaining business financing, securing business insurance or establishing payment terms with suppliers can be less expensive. It can even help your business land corporate contracts, as corporations often require proof of financial stability and timely payments before awarding an important contract. Since there is no notice when your business credit is reviewed, you may never know how your credit history has affected your business.
You can create business loans with any business structure, including LLCs and S-corporations. You may be able to establish business credit as a sole proprietor with a registered business name. However, keep in mind that without a registered legal entity, you will never be able to truly separate your business and personal loan. Also note that personal credit cards are only reported to consumer credit bureaus, not to business credit bureaus. Therefore, paying your personal bills on time, while a good practice, will not help you build business credit. Even if you use your personal credit cards to pay business expenses, it won't help you build a business credit portfolio.
Does your personal loan matter to your business?
Yes, a small business owner's personal and business loan are both important. It is common for stores or lenders to require personal credit checks for credit cards or small business loans. So keeping your personal credit score high is a good idea. The good thing is that you can start building business credit even if your personal credit isn't the greatest. The key to building a good business credit score is to do business with companies that report payment history. Then pay on time and keep your debt levels under control.
9 steps to create a business loan
Building business credit can be a little tricky, so here are the steps to building business credit.
Build your foundation

Register your business

Get a Dun and Bradstreet number

Get accounts that report

Create trade lines with your suppliers

Pay on time

Pay your taxes

Maintaining good credit

Monitor your credit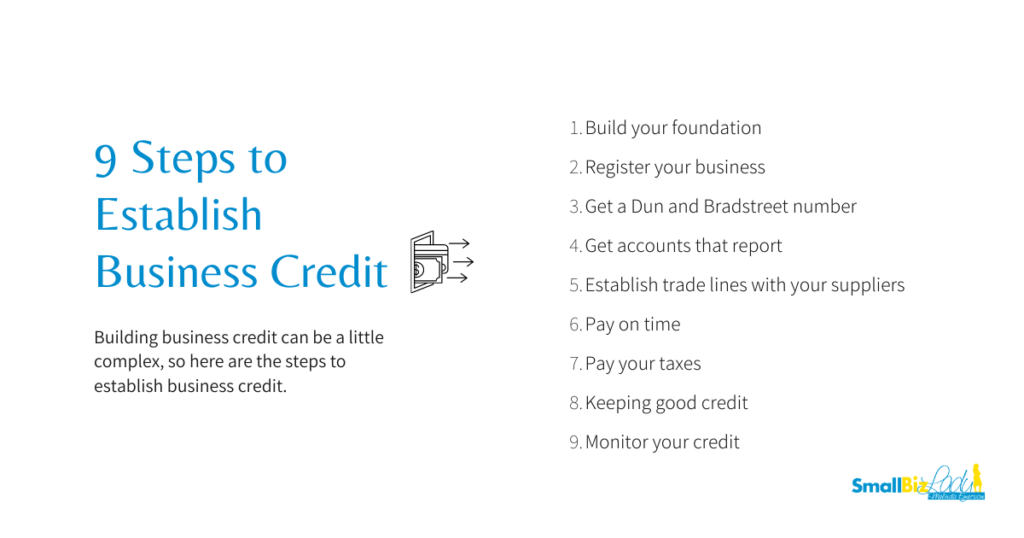 1. Build your foundation
To effectively establish business credit, it helps to establish your business properly. If your business is new, take the time to set up your business so it looks professional. Get a business phone number and, if possible, get it listed in the directory help. Get and use a professional email address. Choose and consistently use a business address, which could be a post office box or even your home address if you're just starting out.
2. Register your business
Most businesses must be officially registered in their state. You should have completed this step if you formed a business entity such as an LLC or S Corp in your state. Annual submissions will be required. (If you started your business in another state, you may also need to register your business in the state where you do business.) You may also need to obtain professional or business licenses. Check your state's requirements. Some commercial credit agencies may use public information like this to start your business credit profile.
3. Get a DUNS number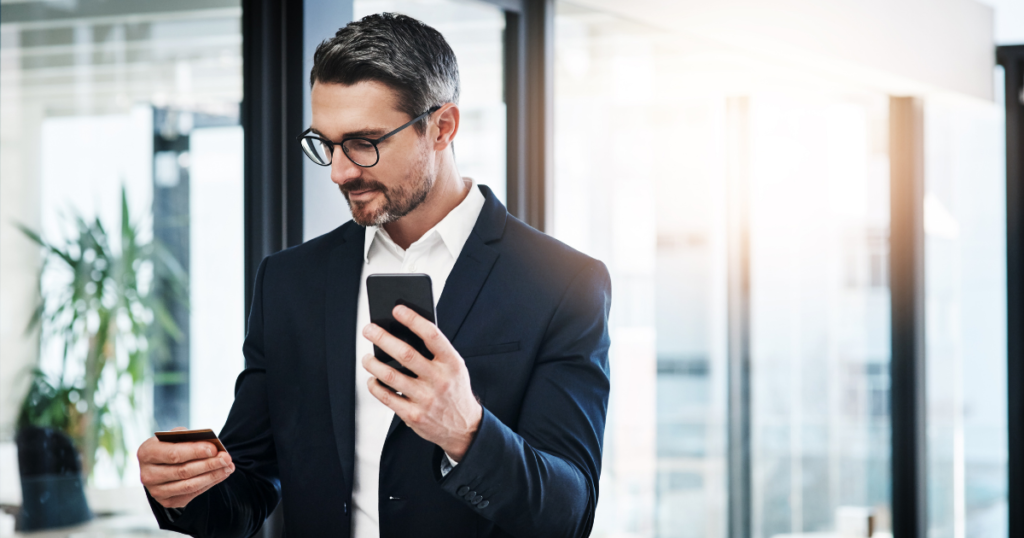 A DUNS number is your business identifier with the Dun & Bradstreet credit reporting agency. If your business doesn't already have one, you should apply and it's free. Credit safe, Equifax, AND Expert they all have unique identifiers (numbers to identify your business in their systems), but you don't have to start this request with them. An EIN is the business ID number that every business must obtain from the IRS. Having one is not required to establish business credit. However, you cannot open a business bank account without an EIN.
4. Create accounts that report
To start building your credit, you need to create accounts that will report to the business credit bureaus. Ideally, you'll want to maintain at least two to three credit accounts with reporting companies. They can be a merchant account with an office supply store, a business credit card, or a creative credit account. More accounts can be useful as your business grows. When it comes to your business credit score, Most small business lenders like to see a business credit score above 75. However, local lenders like CDFIs or Community Development Financial Institutions may consider lower scores for small businesses or startups. Conventional consumer finance companies rarely lend to individuals with credit scores below 600.
Three of the most affordable reporting accounts are:
Office supplies overview
Strategic Network Solutions
Ohana Office Products
The benefit of doing this is that your payment history is reported to the credit bureaus and you build your business credit; if you have established business credit, these three reports will strengthen what you have established. These companies send data to the credit bureaus on the last business day of each month.
5. Establish trade lines with your suppliers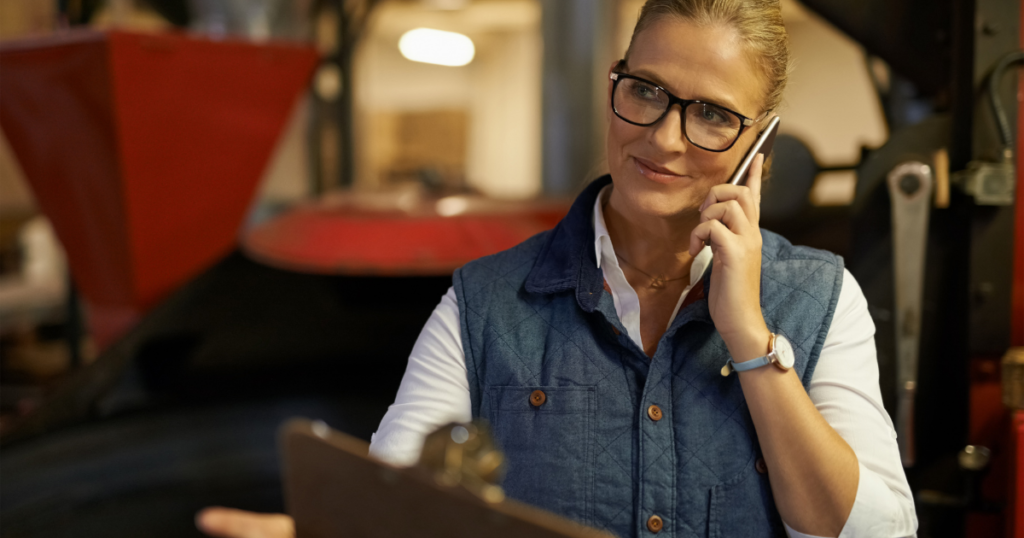 Suppliers often provide trade credit, which allows you to pay days or weeks after you receive the inventory. This accounts payable relationship can boost your business credit score, provided your supplier reports the payments to a business credit bureau. You can set up trade lines with any small vendor, such as your water supplier, payroll company or wholesale distributor. If these sellers do not report to a credit bureau, you can list them as a trade reference on your account and Dun & Bradstreet will follow up to collect your trade data.
6. Pay on time
Payment history is the single most important factor in building business credit. You must keep the accounts current and active over a period of time to demonstrate the growth and creditworthiness of the business. Pay on time or early if you can, and you can build your business credit score faster.
7. Pay your taxes
Unpaid taxes or business debt can result in a lien, giving creditors the legal right to seize your property to satisfy the debt. And unpaid debt can eventually result in a court judgment — or judgment — against your business to collect the debt. These negative marks on your business credit report can come back to haunt you. Bankruptcies, for example, stay on your Experian credit score for 10 years; Tax liens, judgments and collections remain for nearly seven years.
8. Maintain your credit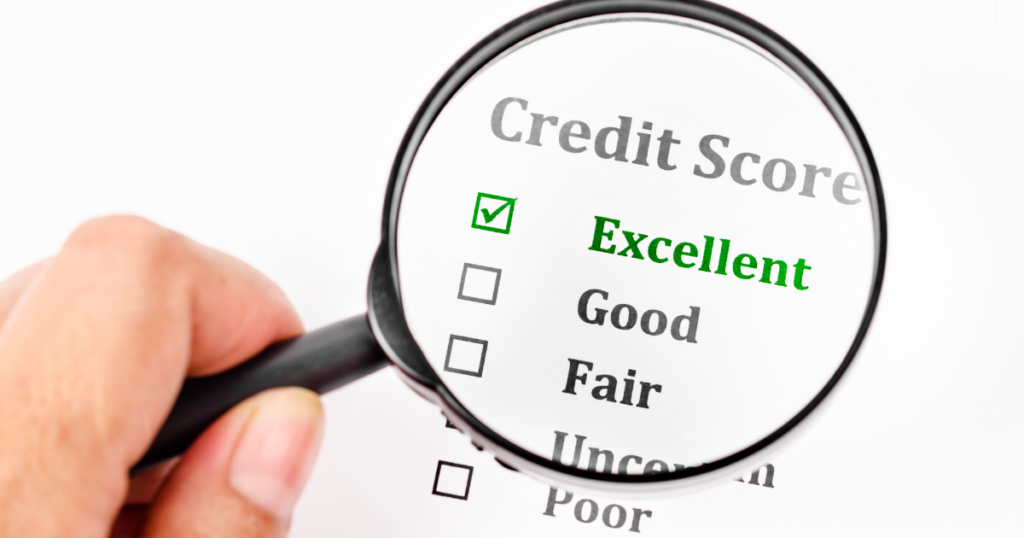 One of the most important steps in building business credit is maintaining it once you've reached the level you want. Paying your bills on time or early and building good relationships with your suppliers, creditors and lenders are the easiest ways to maintain your business credit score. However, it's important to remember that part of building good business credit is developing strong financial habits: saving money, paying bills on time, and making informed financial decisions about the future of your business. Creating these habits feeds into the comprehensive financial experience your business needs to build trust and build a track record of success.
9. Monitor your credit
Monitoring your business credit history can alert you to problems so you can investigate further. Check your credit reports and scores with more than one major credit reporting agency to find out if your accounts are helping your scores. If not, consider adding additional credit references. If you find an error, file a dispute with the credit bureau that reports the error.
New accounts may not appear on your business credit reports for several months. Once they do, you'll need several months of on-time payments to build business credit and get a good credit score. Whether you have a new business or a well-established business, if you take the steps above, you may be able to establish business credit within six months to a year. The good thing is that you can spend up to $100 per month to build your business credit.