In the year As the CEO of PT Arta Boga Semerlang from 1992 to 2017, he is a well-known name in the fast-moving consumer goods (FMCG) sector in Indonesia. The company from 1992 to 2017. The conglomerate behind popular brands like Tango wafers and Formula toothpaste.
After a quarter century of experience as CEO, Stevensang decided to retire. But in the year In 2018, he re-emerged in the Indonesian tech startup scene when he launched a business-to-business (B2B) FMCG e-commerce platform called GudangAda.
"80% of FMCG transactions depend on traditional retailers, especially small and medium-sized merchants, but most of them have not adopted technology well," Stevensang said. CASIA In a recent interview. "Indonesia's key FMCG players, which include big-name principals and wholesalers, have been running their businesses for decades, but know little about digital solutions."
Conventional FMCG wholesalers and retailers rely on door-to-door salespeople to sell their products, Stevensang said. This often translates into prohibitive costs, as it takes at least six months for salespeople to work step-by-step with the business process and build sales networks. "Not to mention the sales team, which usually has a high volume of sales. Wholesalers and retailers' supply chain costs are increasing every year, but their productivity is stagnant. So I founded Gudangada on a mission to streamline the supply chain in one platform."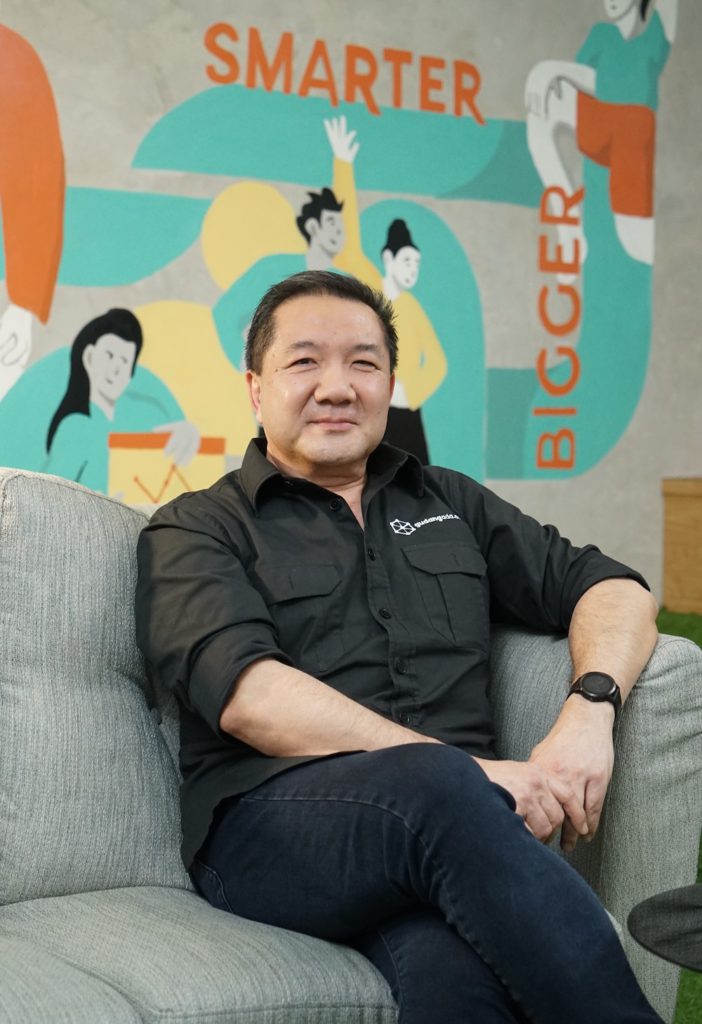 GudangAda has three types of customers—principals who are FMCG companies or manufacturers, wholesalers and retailers who run neighborhood shops or Shops. GudangAda connects these customers on one platform. According to Stevensang, Indonesia's 3 million traditional retailers have to close their businesses every time they restock merchandise, which can take an entire day. As the platform offers wider product choices and improves pricing, retailers can accelerate inventory and improve order management.
Meanwhile, principals and wholesalers can reach more customers through the GudangAda platform as they require fewer sales people.
"We also provide retailers with insights into what products are currently in demand, so they can better optimize sales," Stevensang added.
The startup claims 60,000 wholesalers and about 250,000 small and medium retailers spread across 500 cities in Indonesia. The CEO, Gudangada, said that the transaction volume in the third quarter was higher than in the second quarter, and this year it recorded a positive growth, which was more than double that of the first quarter. Stevensang acknowledges that the relationships with major players that have been built over the years have been instrumental in landing partnerships with wholesalers and principals.
"I believe this is the right time to enter the startup scene, because I understand the pain points and challenges in this industry. I have established and maintained networks with other industry players. Good communication and mutual trust are crucial in this business," Stevensang said.
GudangAda closed two rounds of funding this year, $10.5 million in seed round from Alpha JWC Ventures and Wavemaker Partners, plus $25.4 million in Series A round from Alpha JWC, Sequoia Capital India and Wavemaker Partners.


However, according to Stevensang, convincing retailers to use digital solutions is often difficult. To overcome this challenge, the startup has a field team in every city where it works. These employees teach about the benefits of the Gudangada platform, how to use it and what to do if they encounter technical problems. "Most retailers, especially those outside major cities, are not tech-savvy, so a combination of technology and a people approach is essential. We have about 900 team members. Most of them are part of a field team spread across hundreds of cities."
In the future, the company plans to work in more business verticals. This includes point of sale features, financial services to help small and medium retailers, as well as digital marketing and advertising solutions for the principals. "Our vision for the future is that we want to provide a one-stop solution for B2B business," Stevensang said.
To make this plan a reality, the company plans to raise additional funding in the first quarter of 2021. Above all, we want to find strategic partners who can help us build our ecosystem," said Stevensang, whose startup aims to raise at least $75 million in its next round. GudangAda aims to have 750,000 users by the end of 2021.
"The COVID-19 pandemic has accelerated digital adoption by many businesses, including those in FMCG retail. I believe the trend will continue even after the epidemic is over, so we have full confidence in our plans for next year," he said.
This article is part of KrASIA's "Startup Stories" series, where KrASIA writers talk to founders of tech companies in South and Southeast Asia.