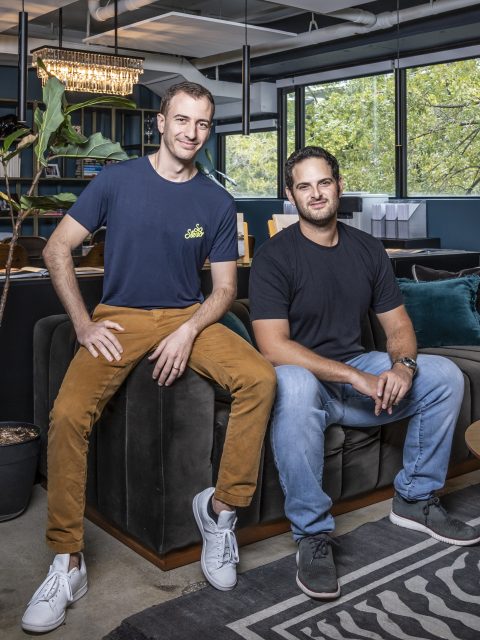 As part of our founder interview series, Startup Magazine caught up with Salo Sterental, co-founder of Sosterio, a marketing firm that empowers brands and artists to unlock the marketing power of music. Sosterio, the organization that Salo helped build, not only streamlines the way Fortune 500 brands use music in their ads, but also helps Indian artists build a music middle class and generate additional revenue.
Salo built his background as a music producer and engineer to see the power of music in advertising. Salo details how the power of music influences marketing and brand building in his interview with Startup Magazine below, and how he ran a top marketing agency in a college apartment helping hundreds of companies and artists reach new audiences.
TSM: Explain what SoStereo does in 10 words or less:
hello SoStereo helps brands find amazing music for their content.
TSM: In a little more detail, what does SoStereo do?
hello We help brands unlock the marketing power of music. We provide an easy and affordable way for brands and creative agencies to source real music by real artists for their brand content and campaigns. The company partners with artists, labels and publishers to use their music for advertising/content, helping all artists monetize their music while doing what they love – great music. Our vision is to "open access to the world's music for brands and creators" – think Spotify meets Shutterstock. Our platform and services are used by popular brands such as Apple, Netflix, Target, NFL and more.
TSM: What inspired you to start SoStereo? (Tell us the problem you solve)
hello Zumba Fitness presented Beto (my co-founder) and I with a unique challenge. They were licensing music from major artists, and while they loved the impact those campaigns created, they didn't always have that kind of budget.
We suggested using music from up and coming artists and a few songs from popular Colombian artist Mara had the same feel without the hefty price tag. Zumba instructors love it! And that was really the beginning of Sosterio's mission.
After college, I went to a BMG post and Salo went to Miami to work with Sony and Warner Singers. We have noticed that many artists struggle to monetize their work. At the same time, brands and agencies struggled to find the best music.
A few years ago, when you were faced with similar issues with Zumba, either spending too much money on top artists or being stuck with the usual stock tracks, we realized that a middle ground was needed. That's when Sosterio really came to life. We wanted to break down the walls of music access, and technology was the perfect solution.
TSM: So you're working at the intersection of music and advertising. What are the disruptive factors in your sphere that make it so promising as a business?
hello The biggest problem we want to solve is to provide access to real music for brands and creators working on content for different content pillars – i.e. commercials, film/TV, branding, etc. In 2022, 81% of internet traffic was for video consumption and you can stream any song in the world at the palm of your fingers. It makes zero sense that you can easily find and license any song you want for video content – whether it's a teenage player or a streamer for a major brand's national broadcast ad. So that's the big vision – to solve that huge problem, complex and layered.
The most immediate disruption is giving brands access to a limited, albeit growing, list of real artists and combining that with our unique technology tools (such as data locators, AI music auto-tagging, etc.). Helping brands unlock the marketing power of music in new ways. You can take the music budget you normally use for tired stock music or original compositions and use it to open up a marketing edge with a different use of music in a more informed way, i.e. if it's a social campaign in NY, an artist from NY or a vibe that is very reminiscent of the city's music culture; Use an artist with a large social following who can promote your campaign to their audience. Music has the power to convey messages, connect with audiences and capture attention, and, for a long time, due to the lack of tools in the industry and the lack of access to real music, brands are not spending money on music for their content. Reach full marketing potential.
TSM: Music is an important tool in marketing strategy. Is it more of a branding tool or more of a tactic for the ad to attach an emotional message to the ad or both?
Salo: I know it sounds like a cop out, but this really depends on the campaign and the creator's goals. For some campaigns, music plays a crucial role from a strategic point of view – you're targeting a very specific audience and that audience is looking for a sound or artist they like. They want to say something without He is saying. Something (ie backed by vocals), so you want the lyrics to make the connection. You are running a localized campaign and want a local artist/voice. You want to grab users' attention, so you want an audio song as opposed to a simple music bed. These are all examples where music plays an important role. However, there are campaigns that have a much wider audience, a lot of sound to convey the message, and the music needs to fit well behind it, not distract the audience and be more tactical to convey emotion. Be the driving force.
TSM: On the business side, in your history of launching and expanding SoStereo, what have been the main challenges in your journey to scale? hire? Quality control? Capital?
Salo: The biggest challenge is capital. Like any big idea, everyone will try to shoot you down at first. "Oh, it's been tried before and failed", "This will never happen", etc. And it's hard to get capital at this point. Amazingly, in retrospect, all the 'thesis' we were working on in the original concept, SoStereo has been proven over the years. So on the one hand, it's great to be validated about our approach to the space, on the other hand, it's a little disappointing to know that we had so much capital in the past, we could have gone further. But with that being said, a huge lack of capital has helped us run a very tight ship with great unit economics and KPIs, which people notice in the current market environment. There's no substitute for a business built on solid foundations, and many organizations are cash-strapped, industrious, and lack the business fundamentals and discipline to keep going when times get tough.
TSM: Going back to your early career decisions, tell us what influenced your decision to become an entrepreneur?
hello I think I always wanted to be an entrepreneur without knowing what "entrepreneurship" is or what an entrepreneur is/does. As a teenager, I knew I wanted to pursue a career in music, specifically as a producer and songwriter. It just so happens that most producers and songwriters own their own business – they're all entrepreneurs. So subconsciously, that was the only way to go.
I also liked talking to other entrepreneurs. I grew up in a family where many close relatives or family friends ran their own businesses, and I remember being in love when I heard about their different experiences – in particular, I loved the idea of ​​building something from scratch, wearing and wearing many hats. Challenge yourself with something new every day. Those didn't seem like work to me, they seemed like fun, never boring or mundane.
TSM: What qualities does it take to lead a successful startup to scale-up success?
Salo: I think that optimization, if not at the top of the list, is at least in the top 3. One must realize that the processes, efforts, lessons that work for 2 or 3 groups will not work for 10 groups. Likewise, what works for a team of 10 won't work for a team of 50 or 100…so you need to constantly look at your processes, workflows, leadership and even culture and adapt to the dynamics of a growing company and team. Even hiring can be seen as an adaptive skill set, whereby you are initially hiring generalists who can wear many hats because you simply don't have the resources to hire individuals (people who are good at very specific things) and depending on the company. It grows, you need to adjust that hire.
I also put culture at the top 3. One of the jobs of a leader at the lowest level in an organization is to ensure that the culture does not fade. If you have a strong foundational culture and as a leader make sure to hire, reward and fire based on the company's scale, the flywheel of a strong company culture makes it easier to maintain and strengthen the culture as the company scales. Employees take responsibility for maintaining a strong culture as opposed to falling solely on the leader's shoulders.
TSM: How do you approach the challenge of balancing the demands of entrepreneurship with the responsibilities of personal life and parenthood?
hello In a post-pandemic world where some of us are working from home, it's definitely important to set limits and plug in to some degree. In a work-from-home environment, especially as an entrepreneur, it's easy to be always available, so it's important to set and discipline yourself accordingly, regardless of one's personal boundaries. Personally, I like to have a "closer to the office" type of clock, barring any emergencies or deadlines. This allows me to spend quality time with the family before my son goes to bed. I also like to limit the amount of work on weekends to emergencies – I think it's important to unplug and spend quality time with someone you love. I find that distance sometimes gives room to think about things on a higher level than the normal day-to-day where one is too focused on executing the task at hand. I also happen to belong to a family of entrepreneurs, so weekends are a great time to casually hang out with the family to spark ideas and once again offer a different perspective in a relaxed and casual environment.
TSM: What is the most important thing you can tell other startup founders?
Salo: Hardworking, hungry to learn, eager to knock on doors no matter what the answer may be (or no answer at all), and humble enough to receive feedback – not just hear it, but internalize it. Entrepreneurship is a journey with ups and downs, twists and turns, and you need to mentally prepare for it – it's not for everyone and it's okay.
TSM: Tell us something about yourself that most people don't know.
hello I'm a big sports fan of all the Miami teams, and I love taking lessons from sports culture and building championship teams and applying that to our work. It's an amazing opportunity to have someone like Pat Reilly live in the country and learn about him and the way he runs organizations.
TSM: Salo, you have an amazing story and gave us some great insights and advice. Good luck with your continued success.
The post Founder Interview: Salo Sterenthal, Co-Founder of Sosterio, Marketing with Music appeared first on Startup Magazine.