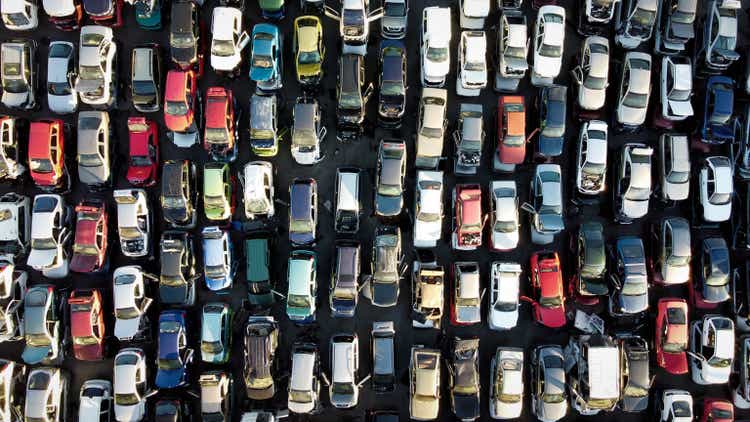 Copart (NASDAQ: CPRT) is a great business that auctions damaged vehicles. The company offers a large network, with almost 200 sites in 10 different countries, to sell damaged cars. The market is benefiting from strong tailwinds, but they will be stronger upcoming years. Copart will then capitalize on the trend and grow significantly for many years.
An excellent business model with extensive competitive advantages
Copart's main source of revenue is the services segment, which represents 80% of its revenue. This segment consists of revenues from the storage and sale of vehicles.
When a car gets into an accident, the owner can decide whether to repair it or give it to the insurance company. If the latter happens, the insurance company ends up with a damaged car and can do nothing but sell it. Copart is the perfect solution for the problem. In fact, the insurer can give their car to Copart to get it into their extensive network and sell it more easily than if they had to do it themselves. Each vehicle is stored in one of its yards and entered into its auction platform. In return, Copart charges a fee for the service. Additionally, when the car is sold, they keep an additional fixed or variable percentage of the total price.
This top-notch business model creates a lot of value for its customers. In addition, providing high-quality services allows them to differentiate themselves from rivals. They provide valuable information to sellers, making the process a walk in the park. Effectively, their auction platform uses very efficient technology. It shows images, the estimated value of the fully repaired car (as well as the estimated repair price) and allows easy communication between buyers and sellers.
Additionally, clients will benefit from their extensive network. Copart sells vehicles to buyers from over 170 countries thanks to its online platform. In addition, they have over 200 car storage locations in 10 countries around the world: USA, Canada, Brazil, Spain, Germany, UK, Ireland, Oman, Bahrain and UAE. Buyers can purchase vehicles from anywhere, as Copart also offers a shipping service. However, buyers can also visit the nearest site if they want to see the car. This creates a massive, impossible-to-replicate network of many potential customers, something very beneficial to Copart's customers.
A powerful network effect
Copart's platform and extensive network are the perfect solutions for insurance companies. Any insurance company that does not join Copart is at a disadvantage. As a result, a powerful network effect emerges, which gives Copart a huge competitive advantage.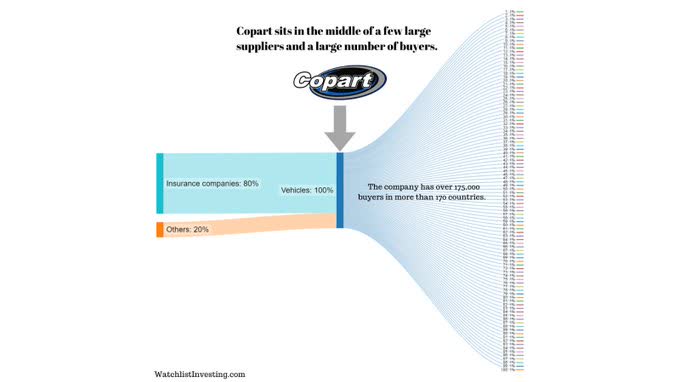 Copart is the most prestigious company in the market. Its large number of customers creates a massive network that generates a domino effect. The company's prestige and recommendations generate new customers (a similar case with Microsoft and Apple). Every business should enter the Copart ecosystem as it increases its profits. This business model allows them to gain market share and get many deals with new insurers. For example, expansion into German territory seemed quite demanding due to the difficulty of obtaining licenses and the country's long automotive tradition. However, the quality of the business and its good reputation have led to these licenses being granted by German regulators. Moreover, insurers trust them, thus allowing them to expand in this market.
An unprecedented segment that can drive sales growth
Copart's secondary source of income is the direct sale of vehicles. Not only are these services offered on Copart's website, but the company also has subsidiaries where it enters complementary markets. These are:
Cash for cars

,

Powersport buyers

AND

Motorcycle buyers

: These are sites where people upload their cars, motorcycles, quads, boats and jet skis and get paid for them.

Dropped toys

: It's like Copart, but, as seen before with cars, they do it with the Powersports section. This includes motorcycles of all types, watercraft, caravans, buses and trucks.

National Energy Auctions

: Copart bought this company in 2017. They sell motorcycles, quads, airplanes and snowmobiles, caravans, boats, buses and trucks. It is the most premium section of Copart.
This segment usually slips invisibly, as it is the secondary source of income. However, we should not forget about this segment. Indeed, many markets have a long tradition of products of this type. For example, in Europe, motorcycles are very popular. Moreover, the marine world is also being progressively captured. Then, snow sports are traditional in Europe and South American countries like Argentina. As a result, the company can increase its revenue by expanding these businesses to other parts of the world with a high demand for these products.
The trends of the automobile market are a strong wind
Over the years, the automotive industry has changed dramatically. And in the future, an even more drastic change is expected. This is a trend that Copart will benefit from significantly.
Increasing technology and security increases repair costs
First, cars contain increasingly advanced technology. Although we may think that this affects Copart, on the contrary, they benefit greatly from it. The company is favored when repair costs or repair difficulty are high. As I said in my last article about Texas Instruments ( TXN ), today, a new car contains between 3,000 and 5,000 microchips compared to just 300 a few years ago.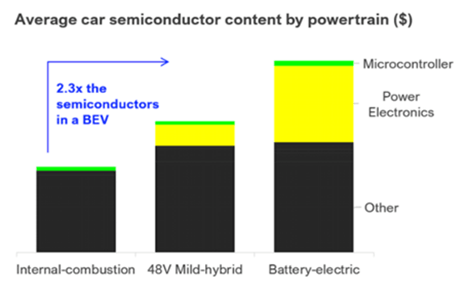 This growth will continue in the future, especially with electric cars, with 2.3 times more chips than in a car with an internal combustion engine. Therefore, cars tend to become more complex and have more advanced technology. Repairs are then more demanding, which increases the rate of salvage vehicles (ie recovered by insurers). As a result, owners are more likely to give up their cars, resulting in more vehicles for Copart.
On the other hand, cars are safer than ever, but this is not by chance. The materials used in cars have changed completely. A safe vehicle can absorb a large amount of impact energy as this will reduce the energy absorbed by the occupants. However, how do you make a car absorb more energy? The greater the stiffness of the material, the less energy it absorbs. Next, we look for highly plastic materials able to deform easily and absorb more energy. However, this has another consequence. Softer materials undergo large deformations, making repairs more frequent, complicated and expensive. So we see again a factor that contributes favorably to the salvation rate.
New cars are more expensive than ever
Finally, the automobile industry has changed its production and sales model, moving from mass production to selling fewer cars at higher prices. This trend is spreading rapidly. Indeed, brands that used to offer vehicles for $20,000 offer cars for no less than $30,000. Then it is more difficult for any ordinary person to buy a car. This can significantly benefit the company. Indeed, those who cannot afford a new car will have to turn to this platform, trying to find cheaper cars and repair them.
ASSESSMENT
I use an inverse DCF to find what growth the market expects at the current price. My required rate of return (WAAC) is 10%, and I'm using a terminal growth rate of 3.5%. It's a relatively high TGR, but it could be even higher in this case. Indeed, a business of such excellent quality, with significant competitive advantages, can provide high growth for more than the 10 years typically valued in a DCF. Although the company is very opportunistic with share buybacks, I include an annual dilution of -1%. In fact, they have a lot of money on the balance sheet and no debt. Therefore, share buybacks or even dividends are likely to occur in the future.

The stock is currently trading at around $68. This brings us to an implied FCF growth rate of more than 14% per year. From my perspective, even though Copart will grow rapidly, this growth rate is quite optimistic and I think the stock is currently slightly overvalued.
I think the business can grow its FCF annually by about 12% to 13% for the next 10 years, which brings us to an implied share price of $60.

The Risks
Although the company has strong competitive advantages and a better business model, there are still some risks that we need to pay attention to.
Nowadays, cars are gradually being equipped with many different technological safety systems. These systems should reduce the number of accidents, which could harm Copart. However, these technologies make repairs more expensive, which benefits the company. In addition, the high price of new cars means cars are kept for more years, increasing the chances of failure, a positive for Copart.
Furthermore, autonomous cars seem to ensure the elimination of accidents, which would make the basis of the company's business model disappear. However, strange as it may seem, the company points to data showing that accidents have only increased since the introduction of autonomous driving. It's logical, since we try to make machines predict human behavior and vice versa. Also, the repair costs of these cars are much higher than conventional cars, which favors the company. Further, many people turn off aids such as automatic lane keeping assistant when they lose all sense of driving. Finally, a society full of autonomous cars still seems utopian. Autonomous vehicles must be more affordable and attractive to middle-class citizens to become the norm.
CONCLUSION
In conclusion, Copart has a better business model with broad competitive advantages. Because of this, the company will grow for many years. Additionally, growth will be driven by significant headwinds from the automotive market.
Regardless, I think the stock currently trades at a premium. As a result, I rate the stock a Hold and set a price target of $60. I'm glad I bought some shares at $55 a few months ago. If the price goes down to my target price again, I will happily buy more shares of this fantastic company, the perfect boring business to get away from the tech noise.