Children and adolescents should be assessed and treated proactively obesityaccording to new guidelines from the American Academy of Pediatrics about childhood obesity.
The guidelines note that treatments, including medications and weight-loss surgery, can be effective and can help reduce the risk of developing other health conditions.
The AAP also said that childhood obesity is a disease with genetic, social and environmental factors — not something caused by individual choices — and that it should not be stigmatized by health care providers.
"Weight is a sensitive topic for most of us, and children and teenagers are especially aware of the harsh and unfair stigma that comes with being affected by it," Dr. Sarah Hampl, lead author of the guidelines and pediatrician and weight management specialist. at Children's Mercy of Kansas City, a statement said. "Our children need the medical support, understanding and resources we can provide within a treatment plan that includes the whole family."
One in 5 American children and adolescents live with obesity, according to Centers for Disease Control and Prevention. Obesity is a serious condition that, if left untreated, can lead to long-term health problems.
Overweight and obesity are diagnosed after a doctor uses height and weight to calculate your body mass index, or BMI. The tool compares a child's weight and height with other children of the same age and sex. Overweight means having a BMI 85% greater than others of their age and sex, while obese children are at or above 95%. BMI is an imperfect tool, but it can still help doctors identify concerns for patients, experts said.
Obese children are at higher risk for diseases such as type 2 diabetes, heart disease, obstructive sleep apnea and depression.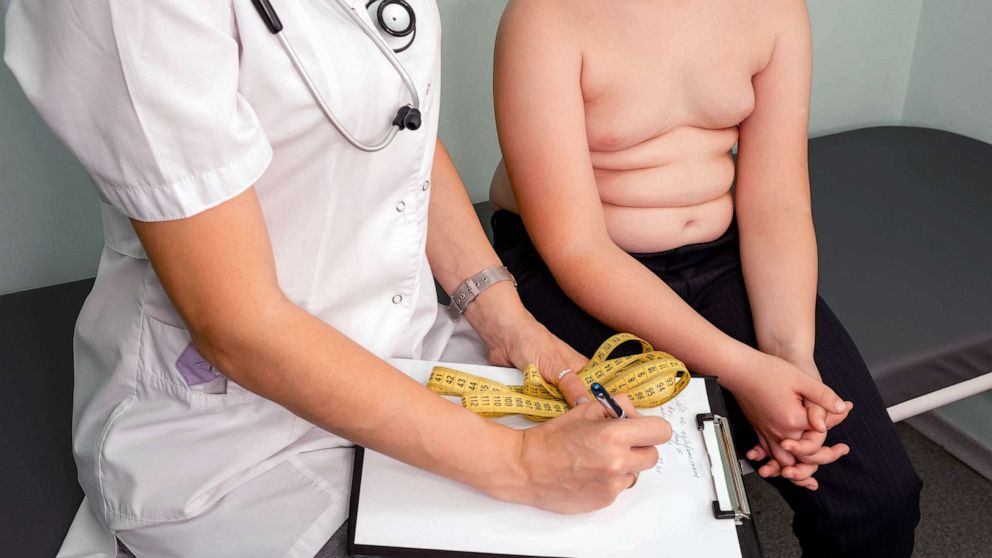 Pediatricians should screen children with obesity for those and other conditions at routine checkups, the AAP said in the new guidelines.
Reducing BMI with treatment can help prevent these other health problems, according to the AAP.
Previous AAP guidelines, issued in 2007, recommended a "watchful waiting" approach to childhood obesity. But evidence gathered over the past decade has shown that there is no benefit to delays and that weight loss treatments are effective for children and adolescents. The new guidelines recommend their use for all overweight and obese children over 2 years of age.
Children 6 and older can receive monthly behavioral therapy to help them make long-term health changes, according to new guidelines. Teens may be eligible for weight loss medications, along with diet and continued exercise. And for severely obese teens, weight loss surgery is a safe and effective option.
The AAP recommends treating overweight and obesity as a chronic condition. For effective treatment, parents and children may need to see their doctor regularly.
All services for children and adolescents should also be delivered in a way that takes into account the culture and language preferences of patients, the guidelines say. By working with families to identify personal beliefs, risk factors and challenges, pediatricians can provide a personalized treatment plan.
Parents should talk to their child's pediatrician about making any additional health and lifestyle changes, but can model and encourage healthy eating and physical activity for their children, the AAP said.
Cooking with kids can get them excited about healthy eating. Preparing meals with vegetables, fruits and whole grains can ensure a balanced diet. Children should be encouraged to stay active every day or get involved in sports.
While childhood obesity is common, the AAP said many children, teens and parents face weight-based stigma — even though many factors contribute to obesity, such as genetics and structural racism, are beyond individual control. New AAP guidelines urge pediatricians and other health care providers to avoid stigmatizing language when discussing weight with patients.
The organization is also calling for policy changes that could help reduce racial disparities in childhood obesity, including improving access to healthy foods and treatments for the most at-risk groups.
Karra Maniér, MD is a member of the ABC News Medical Unit and a resident physician at Los Angeles County + University of Southern California Medical Center.
Nicole McLean MD, MPH, is a member of the ABC News Medical Unit and a resident physician in pediatrics at Columbia University/New York-Presbyterian.