As social media becomes more ingrained in people's lives, influencers or key opinion leaders (KOL) are playing an increasing role in connecting brands with consumers. According to a 2019 study Influencer marketing agencySoutheast Asia's influencer industry is currently valued at $638 million and is expected to quadruple to $2.59 billion by 2024.
Seeing the opportunity, influencer-focused marketing agencies and platforms are emerging to take a bite out of the dessert. Singapore-based AnyMind is one of them.
Founded in April 2016 by Japanese nationals Kosuke Sogo and Otohiko Kozutsumi, AnyMind started out as a marketing technology platform called AdAsia Holdings. "At that time, I was the managing director of a Japanese digital company overseeing business in the Asia Pacific region. I saw a huge business opportunity in influencer marketing in Southeast Asia," said AnyMind CEO Sogo. CASIA In a recent interview.
Sogo decided to base AnyMind's headquarters in Singapore to focus on the Southeast Asian market, but his company has already expanded to other regions, serving 13 countries in Asia and the Middle East.
AnyMind was originally launched as an artificial intelligence-driven digital advertising platform to help brands identify influencers with high engagement rates and strong social media reach. However, the company quickly branched out into other sectors and now has four business units: AdAsia for advertising, CastingAsia for influencer marketing, TalentMind for human resources and AnyFactory, a recently launched service to connect KOLs with manufacturing suppliers.
The organization also introduced the program For KOLs looking to launch their own brands, D2C for influencers, providing support with merchandise production, marketing and brand image management.
The company's business is a mix of subscription and revenue sharing models. "For platforms like TalentMind, it's done as a straight monthly subscription, but for platforms like CastingAsia and AdAsia, we have different models for different uses," Sogo said.

Helping influencers start their own brand
The influencer industry has grown to the point where KOLs are their own brands. This prompted the company to start its D2C service by designing, creating, launching and selling social media stars to make their own brands.
"AnyFactory allows anyone to create whatever product they want, so it's a very convenient platform for people who don't know anything about manufacturing," said Sogo, who now has more than 200 manufacturers in Japan, Vietnam, and more. Registered on China AnyFactory.
The service has already curated eight brands from influencers in Japan, Thailand and Indonesia, with 50 more brands to launch in the next 6 months, Sogo said. AnyMind will cover the initial production costs for qualified influencers based on their follower count and engagement ratio, he explained.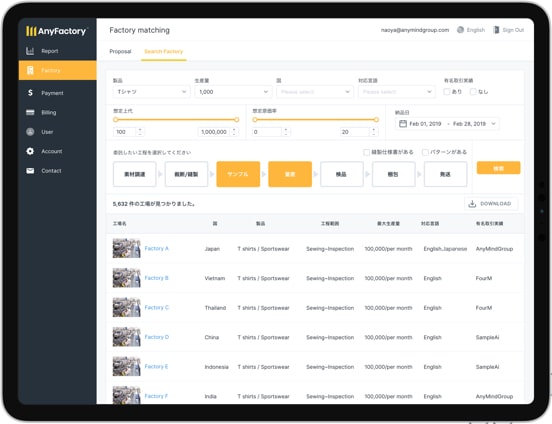 Rapid expansion
Sogo said that AnyMind has a "huge" market share in key markets including Thailand, Vietnam, Indonesia and Japan, although it did not disclose specific numbers.
AnyMind is actively acquiring local companies to expand its reach. To date, it has made five acquisitions, the latest addition being Indian mobile video advertising firm Pokht.
Currently, AnyMind is developing a new logistics line to cover product delivery to its customers and is preparing to launch a new e-commerce service called AnyShop to enable influencers to build and manage their own online stores.
In March, the company raised $26.4 million from existing investors including Japan Post Capital and Mirai Creation Fund, boosting the launch of the D2C line. Funds will also be used to strengthen AnyMind's presence in India and the Middle East, Sogo confirmed.
"The current AnyMind will not be our final form. We are going to develop more. [products]," he said.