Artificial intelligence (AI) was seen as one of the current top investment priorities and was thought to continue to attract investment in the healthcare sector in the next two years, according to GlobalData's latest report 'Digital Transformation and Emerging Technology in the Healthcare Industry' health care – 2022 Edition'.
In this survey-based report tracker, digital media was prioritized as the current top investment target, with 53% of surveyed respondents confirming that their companies are currently investing in this technology. It was followed by AI, social media and big data (Figure 1). Compared to last year's data, digital media saw the largest increase in actual investment, up 22% from last year. Artificial intelligence (+9% from 2021), social media (+8%) and big data (+5%) have also gained since last year, in addition to trending as very popular technologies for investment priorities for several years . Their combined use can unleash synergistic power and potential that could be disruptive to the healthcare sector.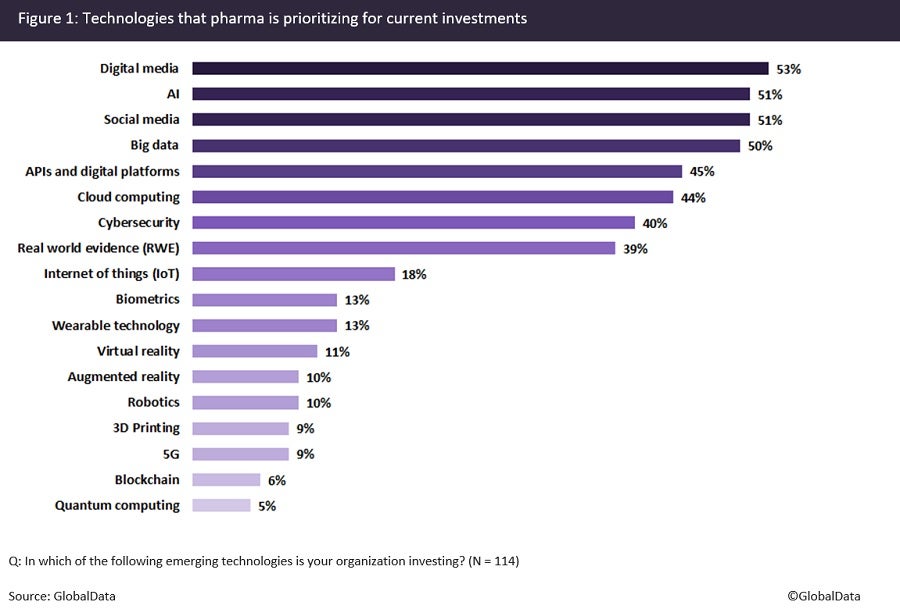 While digital media was chosen as the current number one investment target, the percentage of companies investing in this technology is expected to decline by 16% over the next two years. This is likely due to current inflation and rising costs, which contribute to a gloomy investment environment. In the next two years, surveyed healthcare industry professionals believed their companies will prioritize AI as a top investment target (figure 2).
Topping the chart as the most attractive investment target since 2018, AI is a highly versatile technology that can be applied to a wide spectrum of processes in the pharmaceutical value chain, making processes faster and more efficient ; ultimately saving time and labor costs.
The technology has a number of applications; for example, companies like Exscientia are using AI to help their pharmaceutical clients analyze large data sets to identify potential drug targets in less time. K Health, in its AI-based telehealth app, is using AI and big data to help users get accurate information about their symptoms and connect with doctors; BioSymetrics is using AI and machine learning to provide a platform and models to help pharmaceutical companies identify targets for drug discovery; until of Bayer The AI-enabled Calantic™ Digital Solutions platform, which combines AI with cloud computing, is used to provide more structured tasks and improved workflow to ease workload and pressure for radiologists.
The new digital age has boosted the use of digital technologies. Technologies such as AI are expected to bring disruptive power and revolutionize processes within the healthcare sector. There have been a growing number of successful AI use cases in the healthcare industry supporting a growing confidence in AI. The potential of AI is substantial – not just limited to cutting time and cost in the drug discovery process, or providing healthcare professionals with faster and more accurate diagnoses.