NORTH CENTER — The son of the former owners of a North Center greasy spoon is returning to the neighborhood to open a diner in the same location his family ran their business for 26 years.
Irene's Finer Diner will open next month at 2012 W. Irving Park Road. Owner Petros Papatheofanis named the restaurant after his mother.
Papatheofanis' father opened Alps East at the same address in 1986 and ran it until he died in 2000, Papatheofanis said. His mother and other relatives continued to run the business until they closed it in 2012, Papatheofanis said.
The restaurant changed hands several times in the past 10 years, becoming Danny's Egghead Diner, which closed in 2018. Most recently, it was Northside Kitchen, which opened in 2019 and closed in February 2020.
After several attempts to secure the space, Papatheofanis will open Irene next month.
"Fast forward 10 years and here we are trying to reopen the restaurant that my family first opened in 1986," Papatheofanis said. "Basically what we're doing is opening a bar with better, more thoughtful ingredients, but still having that kind of feel.
"To be able to offer something that traditionally is like that greasy spoon experience where you're like, 'Wow, this is very unhealthy, but it feeds the soul.' We're saying you can still feed someone's soul, but with better ingredients that are a little better for you."
Papatheofanis had long had his eye on running a family business, if not his parents' long-standing restaurant.
Papatheofanis' father worked for the owners of the Original Alps Pancake House, 3637 W. Irving Park Road, and became friends with them before opening his restaurant, Papatheofanis said.
Papatheofanis grew up working alongside his father and remembers stealing ham on the grill as a kid and going to help in the Eastern Alps during his summers from college, he said.
Papatheofanis studied hospitality administration at Northern Illinois University with the goal of helping his family run the restaurant, but they closed the business before he graduated, he said.
"I wanted to help my mom and try to give back, but I graduated too late, so I started working at a corporation," Papatheofanis said.
While working at Kimpton Hotels and other River North restaurants, Papatheofanis kept an eye on the availability of the Irving Park Road spot in hopes of one day returning to open a restaurant, he said.
When Papatheofanis heard about the closing of Danny's Egghead Diner, he reached out to the building's owner, Tony "Doc" Athans, to make a deal.
Both have known each other for years. Athans, a dentist, inherited the property from his father – who leased the Eastern Alps space to Papatheofani's father.
Athans was not immediately available for comment.
"My father signed the original lease with his father in 1986," Papatheofanis said. "By the time I heard about it, I was like, 'Hey, Doc, is space open?' But by then he had already made a deal with another owner."
Papatheofanis continued to check on the property and contacted Athans again after Northside Kitchen closed, he said.
"We had a meeting in March 2020 where we took the arrangements and he agreed that I would take the space," Papatheofanis said. "We shook hands and thought we'd give it a few weeks to see how this thing plays out with the COVID. The rest is history and here we are almost two years later trying to get things done."
Papatheofanis has brought along Cristian Mendoza and Norah Zamler as co-owners at Irene's. The trio worked together at Sable Kitchen & Bar and The Press Room.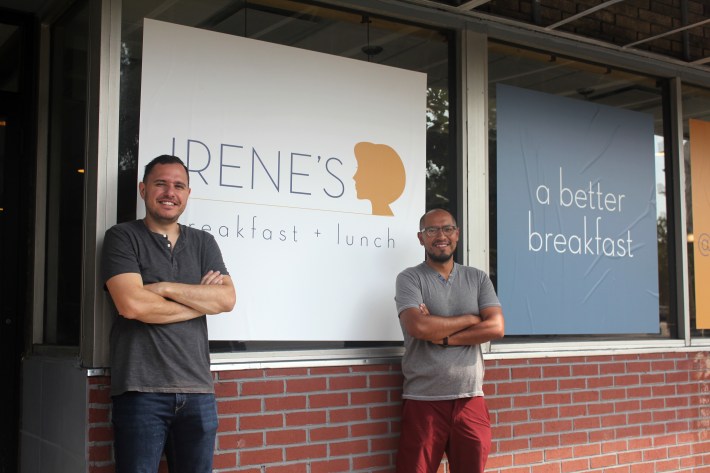 Papatheofanis was a floor manager at Sable when he met Mendoza, who was working as a server. Zamler was most recently chief executive officer of The Press Room.
"It was really very organic. He kept talking about reopening it throughout the years and it just so happened that we had the opportunity to do it," Mendoza said.
The new owners have put a fresh coat of paint on the restaurant and installed new appliances over the past few weeks, Papatheofanis said.
"We want to be as focused as possible on this project because of its sentimental value," Papatheofanis said. "We understand how important first impressions are. We're just trying to work hard to make sure everything is dialed in before we open our doors."
The menu is still being finalized, but it will feature main dishes made with ingredients sourced from local farms and vendors, Papatheofanis said.
For example, eggs will come from Slagel Family Farm and produce will come from Nichols Farm & Orchard, Papatheofanis said.
Additionally, instead of typical pop, the restaurant will carry Jones Soda, a craft drink made with pure cane sugar, he said.
"I think it's good to have an omelet where you know where the pork and vegetables come from," Papatheofanis said. "It's important to me because I think people who are passionate about restaurants are passionate about where the food comes from."
Papatheofanis said he is excited to carry on his family's legacy and have his children work alongside him in the family business as he once did, he said.
"The Greeks name their children after their parents. My firstborn son is named Dimitri after my father. "I thought I've already paid tribute to her, so now it's my turn to pay tribute to my mother Irene with the restaurant," he said. "For me it's always been about family."
Listen to It's All Good: A Block Club Chicago Podcast: